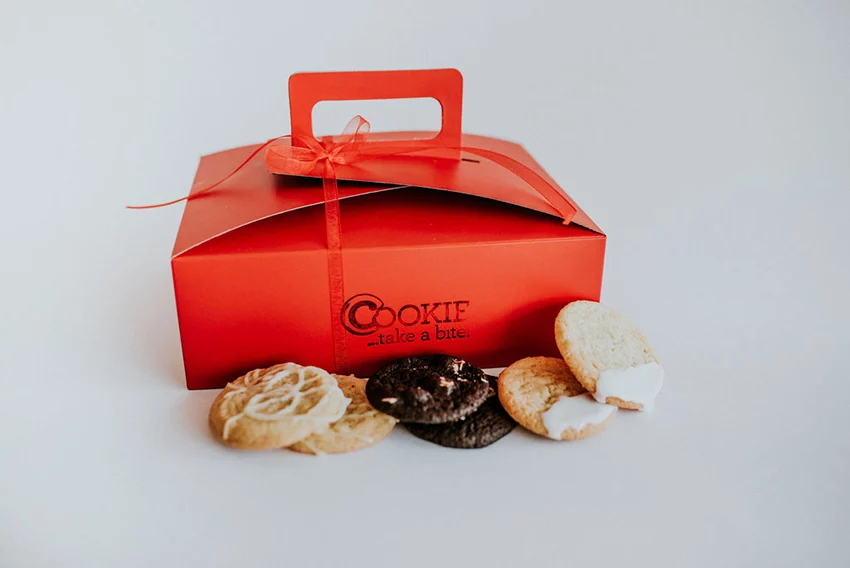 Locally Made Gourmet Cookies, Sonoma County Wines, and Craft Beers to Fill Your Easter Baskets With!
If there is one thing we know about living in the heart of Wine Country, it's how to celebrate the love of all things delicious! We also believe that you're never too old to enjoy a sweet surprise on Easter!
So if you're looking for unique, handcrafted gift ideas to add to your Easter Basket this year we have you covered! Below we highlight some of our favorite Sonoma County wines and craft beers to pair with our seasonal Spring cookie flavors this Easter!
Gourmet Easter Cookies
Whenever you enjoy one of our handcrafted cookies, you are not only supporting our local family-owned bakery, but also many other local producers in our area as well. We are proud to source our organic ingredients from local growers and farmers to bring you fresh-baked seasonal gourmet cookies.
Custom Easter Cookie Gift Tin
To celebrate the delicious and diverse flavors of Sonoma County in the springtime, we have created a one-of-a-kind Easter Cookie gift tin! This beautifully printed artist tin is full of gourmet spring cookie flavors including our award-winning Lemon Moon cookie, Chocolate Raspberry Splash cookie, Jam Thumbprint cookie, and more.
The perfect Easter Basket addition for all ages!
Wine and Cookie Pairing Easter Basket Ideas
If you are looking to share the spoils of Wine Country with someone special this Easter, our Spring cookie flavors are the perfect treat to pair with many Sonoma County wines!
Wine and Cookie Pairing Gift Tin
Our best-selling Wine and Cookie Pairing gift tins feature seasonal cookies flavors all handcrafted to be enjoyed alongside Sonoma County's most popular wines. Each gift tin also includes a detailed pairing sheet for the ultimate wine and cookie pairing experience!
Sonoma County Wines and Cookie Pairings
If you are looking for a gift for white wine lovers, our Lemon Moon Cookies paired with a bottle of Gap's Crown Vineyard Chardonnay from Three Sticks Winery in Sonoma is the perfect addition to their Easter basket! The creamy sweetness of this cookie combined with the fresh tangy flavor from fresh-picked lemons makes for a delicious pairing for this light, crisp local Chardonnay.
For the rosé-all-day babes, we suggest pairing the Three Sticks Winery Casteñada Rosé with our Zesty Tea Cookies. This wine is a springtime staple in Sonoma County with notes of fresh citrus and fruity strawberries, which creates the perfect sweet and spicy melody when combined with our zesty cookies.
Craft Beer and Cookie Pairing Easter Basket Ideas
If you couldn't tell, we take home-grown pretty seriously around here. Whether you enjoy a fresh pour of a citrusy IPA or a more dark and rich Lager, we're sure to have a cookie you can pair with your favorite Sonoma County craft beer.
Sonoma County Craft Beer and Cookie Pairings
If you know someone whose Easter Sunday wouldn't be complete without a refreshing brew, try the Best Life Blond Ale from HenHouse Brewing Co. in Santa Rosa paired with our Sonoma Trekker Cookies. This light tropical session is the perfect beer to enjoy on a beautiful spring day, especially alongside our sweet and tangy cranberry oatmeal cookies.
For all the chocolate lovers out there, nothing beats our Classic Chocolate Chip Cookies paired with the O.V.L. Dry Irish Stout from the infamous Russian River Brewing Company in Santa Rosa. The dry, chocolaty, roasted malt flavors of this craft beer perfectly compliment the sweet and melty chocolate chips found in every bite of this timeless cookie.
Celebrate the Flavors of Sonoma County with Easter Cookie Gifts Tins
Share delicious gourmet cookies made from organic locally sourced Sonoma County ingredients with loved ones near and far this spring! Order your artisanal Easter Cookie Gifts online today to enjoy all our seasonal flavors just in time for Easter. 
We offer nationwide shipping on all of our cookie gifts with protective gift wrapping available to ensure you can surprise someone special with fresh Sonoma County treats.
We can also accommodate local cookie deliveries to customers in Santa Rosa, or pick up your cookie gifts from our Cookie Counter!
Looking for the perfect last-minute addition to your Easter Basket? You can shop our pre-packaged gourmet treats at a number of locations throughout Sonoma County as well!