An Inside-Look at The Best Baking Tools for the Perfect Cookie
Here at COOKIE…Take a Bite! we bake a lot of cookies, and over the years have found some baking tools in our kitchen that we cannot live without! Most of these baking supplies are inexpensive, serve multiple purposes, and are the true secret to the perfect cookie.
Here is your inside look at our bakery's cookie toolkit and how we use these eight essential baking tools every day to hand-make all our fresh organic cookies.
1. Bench Scraper
When baking our gourmet cookies at COOKIE…Take a Bite! we always have this scraper tool on hand. This is a baker's best bet when it comes to easily cutting up ingredients like butter.
Nothing beats this tool when it comes to easy cleanup. When a fresh batch of our Classic Chocolate Chip cookies is ready, this scraper easily removes any dried chocolate leftover on baking surfaces. This multipurpose baking tool is bound to make every cookie recipe easier, and you'll look like a real pro using one in your own kitchen.
2. Bowl Scraper
The trick to scraping sticky cookie batter out of a mixer or bowl is a bowl scraper. The best scraper will be stiff enough to easily maneuver the dough, but flexible enough to ensure we get every last drop of homemade dough or icing out of the bowl. Nothing goes to waste at the COOKIE…Take a Bite! bakery.
3. Pastry Brush
Baking is definitely an art form and any cookie artist will tell you how important a good pastry brush really is to create the perfect cookie. At COOKIE…Take a Bite! we use this trusty tool to perfectly apply our homemade glazes to cookies like our famous Tequila Lime Twist.
4. Micro Zester
With this essential kitchen gadget, we can easily zest all our citrus fruits and other key ingredients for the perfect amount of flavoring every time. Without our micro zester, our award-winning Lemon Moon™ cookies wouldn't be possible.
5. Peeler
At COOKIE… Take a Bite! we use a lot of locally harvested fruits to create our favorite seasonal cookie flavors. A trusty peeler with a large surface area is a must-have baking tool to easily peel things like the apples we use in our new seasonal Gravenstein Apple Streusel Cookie.
6. Ice Cream Scoop
How do you get a perfectly round cookie? The secret is out! Scooping dough with an ice cream scooper is the best way to get perfectly round cookies, every time. With a small ice cream scoop, all your cookies will be uniform in size and shape with little effort!
Pro baking tip: very lightly coat the scooper in oil first so the dough never sticks!
7. Small Offset Spatula
A small offset spatula is every cookie baker's secret weapon. From easily removing cookies off of the baking pan to delicately smoothing icing on freshly baked cookies, this little tool always comes in handy. Our delicate Chai Shortbread Square cookies are effortlessly served fresh out of the oven thanks to this essential baking utensil.
8. Butter Knives
You can never have too many butter knives in your baking kit, and chances are you already have a few of these in your utensil drawer. We use these common kitchen tools in almost every step when baking our gourmet cookies. From holding down sheet trays, or scooping out small dry ingredients like spices, the butter knife is truly a cookie baker's best friend.
Get More Cookie Baking Tips and Tricks from COOKIE… Take a Bite!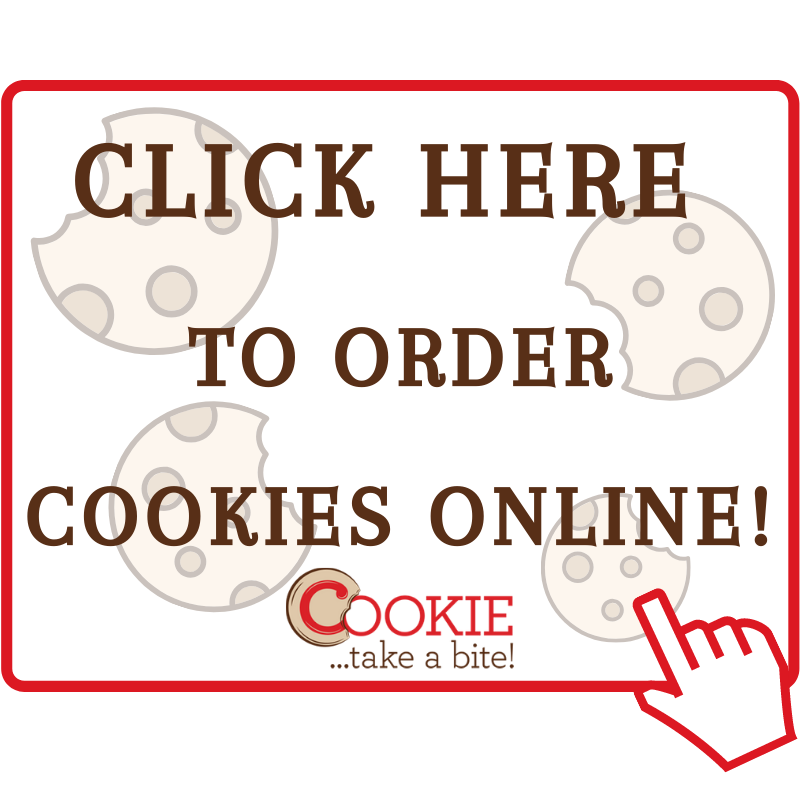 Get more cookie baking tips and tricks by connecting with COOKIE… Take a Bite! on our Facebook page, or our cookie blog! Be the first to know about new seasonal cookie flavors available at our Santa Rosa Cookie Counter, and all our latest cookies tins that are perfect for every occasion.
All our gourmet cookies are handmade with local Sonoma County ingredients and available to order online for local delivery, or shipping nationwide!