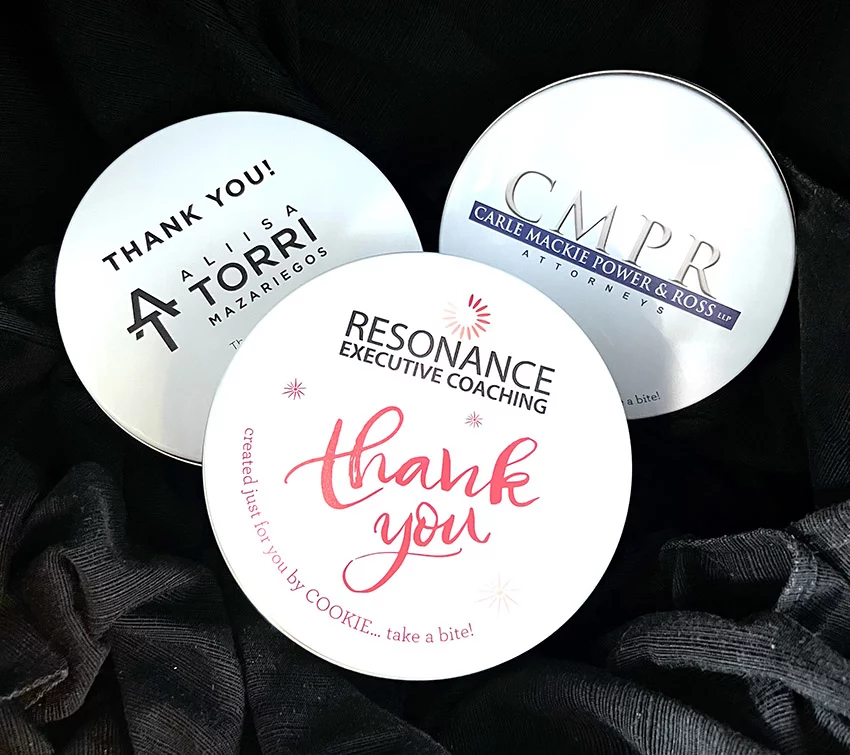 Why Corporate Gifting is Important and How Custom Cookie Gift Tins Can Benefit Your Business
Branded corporate knick-knacks are just like those spam emails we all get every day urging us to "Click Here to Claim Your Free Gift!". Newsflash; nobody's clicking anymore! These days, reputable businesses know that it's important to be thoughtful about what you associate your logo and brand with. No one builds a positive work environment or earns a reputation as a reputable and trustworthy business without thoughtful effort, after all.  Corporate gifting in any industry is an easy way to keep your business front and center in the minds of recipients in a positive way. But that is just one of many benefits! Read on to learn five ways custom corporate cookie gift tins can benefit your business and help foster strong relationships with employees, clients, and other professionals!
1. Thank You Gifts Customer Actually Want
I think we can all agree that the novelty of generic promotional gifts wore off a long time ago. Tchotchke trinkets with a logo stamped on them will likely end up in the same place junk mail does – in the trash.
Your promotional corporate gifts should reflect the standard of quality and care your business has worked hard to become known for. So if you really want to show your clients you care, send them a thoughtful gift that is also high quality inside and out.
Custom corporate cookie gift tins are filled with warm, fresh-baked artisanal treats that are all beautifully presented with your brand and message of thanks print front and center. What's not to love?!
2. Foster a Positive Work Environment by Showing Your Appreciation
Even the hardest working people can lose motivation if their efforts go unappreciated. That is why good business owners make an effort to create a positive work environment. Whether your team could use a little morale pick-me-up, or you just want to show them some gratitude, personalized cookie gift tins are always a big hit for any occasion!
3. Show New Clients You Value Their Trust
Nothing beats the feeling of landing a new account! While you're hard at work behind the scenes, it's always a good idea to send your new patron a little reminder of how much you appreciate them for choosing to do business with you.
Delivering customized cookie gift tins to new clients is an easy way to reinforce brand recognition with something positive and aid in building a loyal and lasting relationship.
4. Build Professional Relationships With New Businesses
If there is one thing we love more than working with other local businesses, it's watching our community of hard-working business owners grow! As an owner, you know that opening a new location or relocating a business is a big step for anyone to take. Sending a welcome gift to new businesses in your neighborhood is a great way to help them feel supported.
Custom printed cookie gift tins make the perfect business-to-business gift because they tie your band to a clear and thoughtful message of goodwill – the ultimate building blocks for developing strong professional relationships!
5. Celebrate All Your Team's Achievements and Milestones
The success of your team and individual employees directly influences the success of your business. After building a team of professionals that genuinely enjoys the work they do, they are likely to work extremely efficiently. So it might not always be possible to reward every single milestone with extravagant gestures.
Celebrating these professional achievements with a thoughtful gift is one of the easiest ways to ensure workers feel appreciated and motivated. Corporate cookie gift tins take the stress out of gift-giving and are a simple yet thoughtful gift that demonstrates recognition for their hard work.
Make Corporate Gift Giving Easy with Customized Logo Cookie Tins
Custom corporate cookie gift tins make commemorating special occasions easy and stress-free for businesses. Whether you want to celebrate your employees, build relationships with other businesses, or show your supporters you value them, cookies gifts are the perfect options.
At COOKIE…take a bite! our corporate cookie tins are completely customizable inside and out. You can have your logo and message elegantly printed on each tin and filled with delicious, fresh-baked cookies of your choosing.
Contact our cookie team for a quote today!