How Can I Reuse Empty Cookie Tins?
Who doesn't love getting a tin of delicious, hand-crafted cookies? COOKIE . . .take a bite! cookies are so irresistible that, with seeming lightning speed, the tin is empty and begging for a new purpose. You may be wondering, "How can I repurpose my leftover cookie tins?"
Not to worry.
Read on for three creative ways you can reuse a leftover cookie tin, plus several creative storage ideas that you can use in virtually every room of your house. Sometimes, round is the perfect shape for a storage container!
Regift with Your Own Homemade Goodies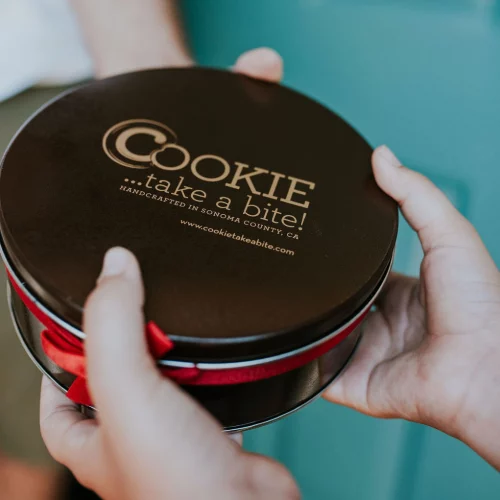 We already know cookies make welcome gifts, but reusing a leftover tin for your own baked creations is a great way to make a homemade gift feel even more special.
Perhaps you make holiday rolls that fit neatly into a cookie tin. Or tarts, or caramel apples. If you're already planning on sharing your sweet creations with friends and loved ones, reuse a cookie tin, instead of purchasing plastic gift containers. This way, you're also giving back to the planet. 
Pro tip: Don't stop there! You can reuse a cookie tin to gift just about anything!    
Keep Popcorn Fresh for Movie Night at Home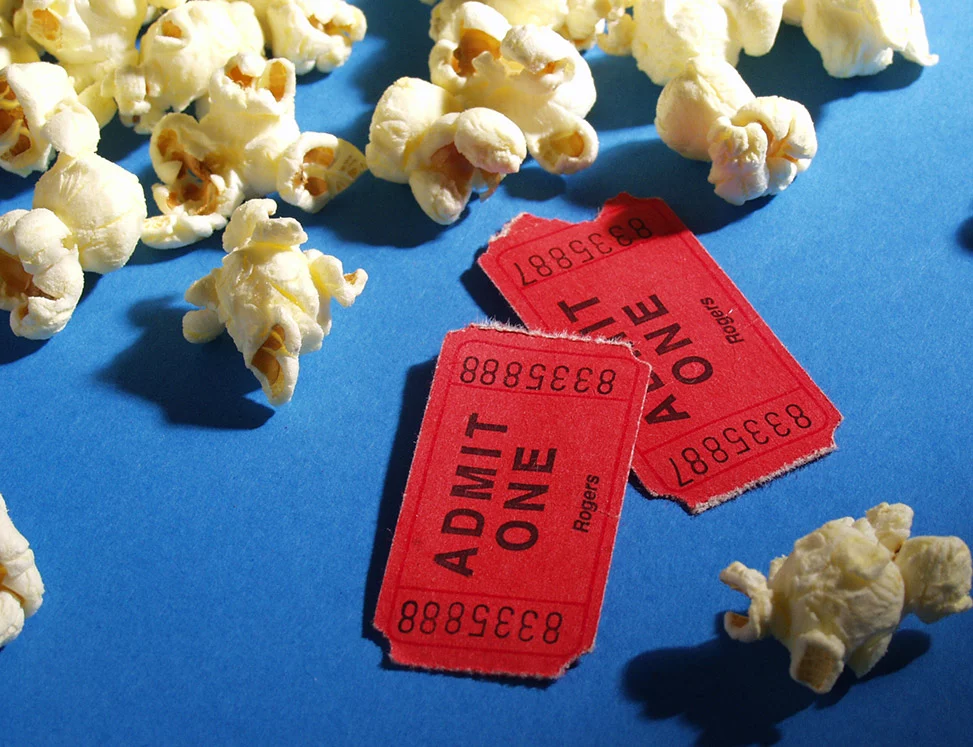 If you like your popcorn homemade and fresh, instead of the microwaved bag with artificial ingredients, a cookie tin is a great way to ensure it stays fresh. You can make it ahead, filling tins for each family member. Just dole them out on movie night!
DIY Chip and Dip Tray
This idea may be inspired by those Russian nesting dolls. if you have cookie tins in a variety of sizes, you can use them to make your own DIY chip and dip tray. The best part of this cookie tin upcycling project is that your new chips and dip container is also transportable!
Securing a smaller one in the center of a larger one, so long as it's also a bit shorter, creates a second chamber, also reducing the size of the area around it. Double-stick adhesive pads, like those used for hanging things on the walls, work great for this.
Easily Add Compartments for Small-item Storage
Every household struggles with the little things that clutter junk drawers, garages, and counters. You might think a cookie tin is not the ideal container, because of its size, but when you partition it off, you can transform it into the perfect container for an assortment of objects that can now stay sorted.
Section Off with Cardboard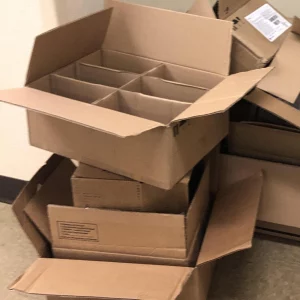 With just a few things likely found around your home, you can create partitions in a cookie tin. With partitions, the storage possibilities are endless.
Here's what you'll need:
Scissors
Tape measure
Scrap cardboard from boxes
Optional:
Fabric scraps
Mod Podge (or 2 parts craft glue, 1 part water)
Paintbrush
Once you've gathered your materials, follow these easy steps, and you'll have a new home for those small items that get out of hand.
Measure the tin's interior height and width
Cut two pieces of cardboard to that size
Create a notch in the center of each piece, from the edge to the midpoint
Fit one notch down, into the other that has the notch facing up to make sure you've measured well
If you want to cover the partitions with fabric, follow these additional four steps:
Cut two pieces of fabric the same width as the cardboard, but twice the height
Glue onto each piece, with the fold facing up
Slit fabric at cardboard notch
Fit pieces together and place into the tin
Pro tip: You can also paint or glue on baubles to decorate the exterior.
Great Organizing Containers for Any Room of Your House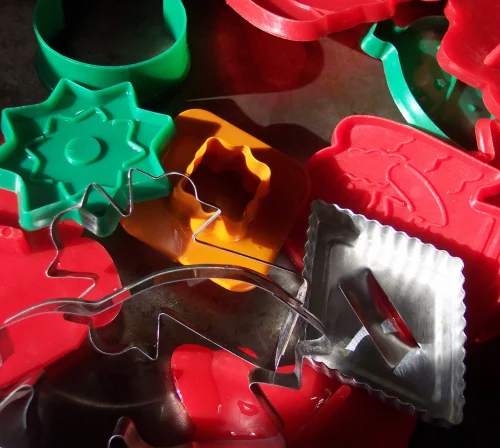 Whether you create partitions in your tins or not, you'll be sure to find uses for them throughout your home. Once you tackle some of that clutter, make sure to reward yourself with a cookie or two!
Here are a few ideas to get you started:
Sewing/craft room: Scraps, thread, paints
Kitchen: Cookie cutters, round food storage lids
Child's Room: Building blocks or other toys with small pieces
Garage: Christmas lights or small Christmas ornaments
Living Room: Replacement tea light candles
Bedroom: In a drawer for rolled socks
Bathroom: On a shelf for rolled washcloths
Restock on Cookie Gift Tins to Get Started!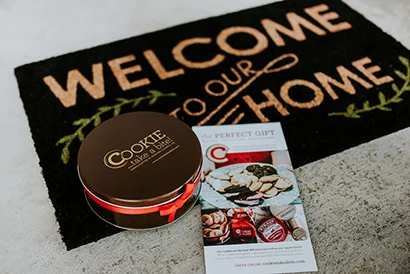 Now that you know what you can do with used cookie tins, it's time to buy more cookies! At COOKIE…take a bite!, all of our handcrafted, gourmet cookies are made from premium, organic, local ingredients. The cookies will taste even sweeter, knowing that they are made with love by a family-owned, Sonoma County bakery.
Taste the love in every bite! You can order our cookies online for local pick-up at our Santa Rosa Cookie Counter, or shipped right to your front door with nationwide delivery! With the holidays approaching, it's a great time to think about sending loved ones near and far a beautifully wrapped cookie gift tin! We can help! For your local friends, we offer local delivery, and for loved ones further away, we have affordable nationwide shipping options.