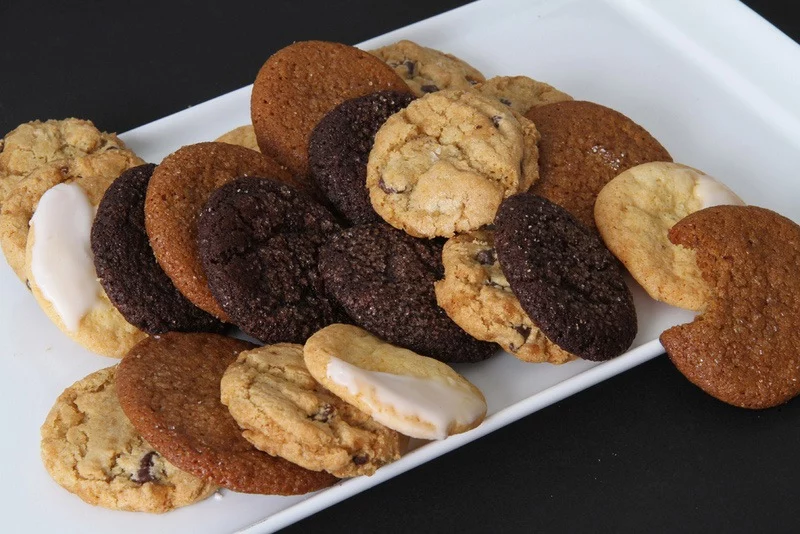 You would be hard pressed to find someone who can resist the tempting nostalgic aroma of a freshly baked cookie. Cookies appeal to us all for many reasons. They're perfect for on the go in a purse or backpack, come in a variety of flavors for any sweet tooth, and have the power to bring about a smile to just about any face.
It's no wonder then, why you're more likely to find a delicious spread of cookies at your next company lunch, family gathering, or community function than any other dessert.
1. So. Many. Cookie Options.
The flavor variety and combinations are practically endless. What that really means is there is something out there for everyone to enjoy. Cookies are like a sweet crunchy chewy canvas ready for just about anything you can imagine. Chocolate, nuts, fruits, and grains – just to name a few, create wonderfully contrasting flavors and textures that can satisfy even the most particular sweet tooth.
If you're a fan of the classics or wish to experience a bold new flavor combo, no matter what your taste buds happen to be craving, there is certainly a cookie for you.
2. Cookie Portability
Another reason why cookies are the best: you can take them just about anywhere! Easily transport 1 or 100 cookies with ease to any event. Unlike other desserts, cookies do not require additional utensils or tableware. Simply pick up and enjoy.
Whether you're tossing a couple in with your lunch or feeding an entire congregation, cookies provide a convenient and favorable treat for any occasion. Plus, you can always bring the leftovers home for later!
3. Simple Portion Control
If you're baking them yourself, you decide what size to make your cookies. If you're not baking them, well you still get to determine your intake! Like many others, you may be watching what you eat and putting limits on your sweet tooth. Often, we pass up on dessert or a special treat… just because.
With cookies, on the other hand, you can easily keep track of what you're eating and indulge in a little treat. Enjoy yourself and know this: you're allowed to have a cookie (or two).
4. Oh, the Power of a Cookie
Cookies can come in a multitude of shapes, sizes, colors, and flavors. Consequently, it's hard not to smile at the sight of a deliberately arranged platter of tasty sweet goodies. Bring some along to share with new acquaintances and co-workers to make a sweet first impression or maybe pass a cookie to someone who needs a little cheering up. For many, cookies bring back fond memories of childhood and time spent baking with loved ones.
Whatever your reason, sharing a chewy, crunchy, crumbly confection is sure to brighten anyone's day – regardless of age.
Handcrafted Cookies Baked Fresh in Sonoma County
COOKIE…take a bite! was born of a love for cookies. Baked fresh to order, every cookie we craft is bursting with flavor and just the right amount of sweetness. Learn how we can provide your next event or gathering with sumptuous mouth-watering cookies. We pride ourselves on our exceptional service and invite you to call, contact us online, or stop by our bakery in the Larkfield Shopping Center to see what we're working on!