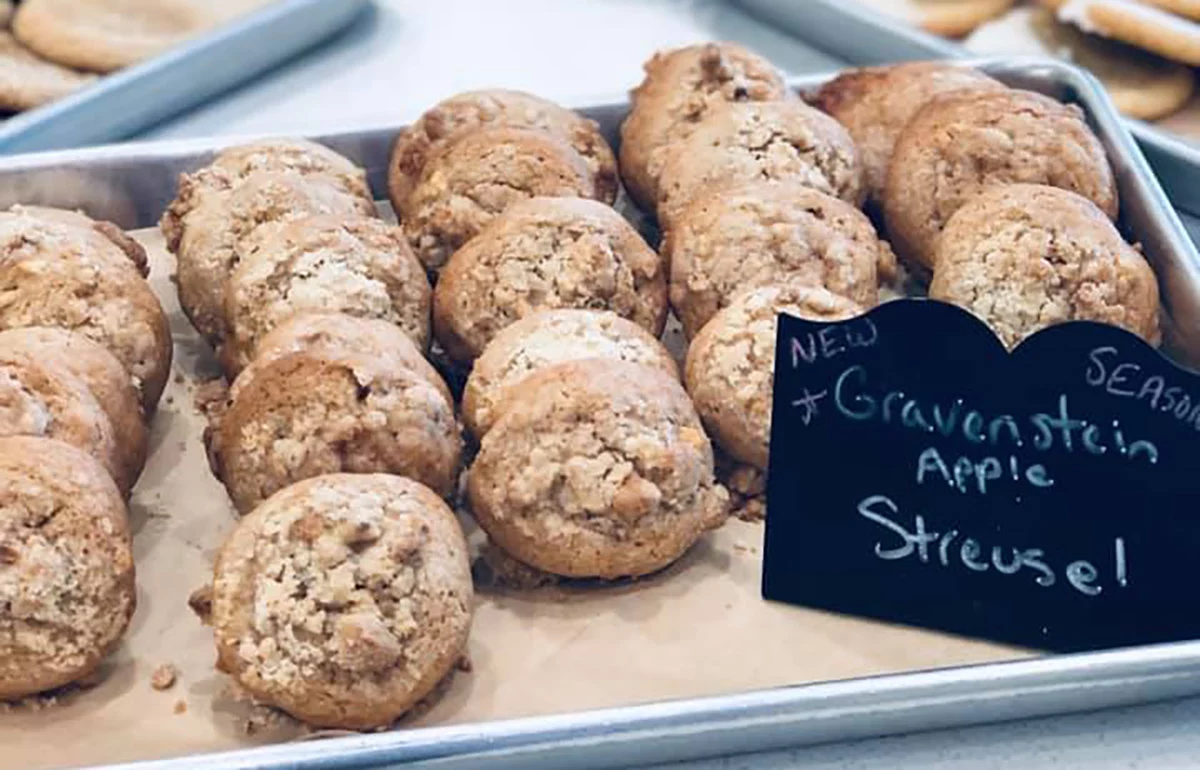 Find out what makes our seasonal fall cookie flavors so special
What are the flavors of fall? Pumpkin, apples, cinnamon, and ginger!
The local Sebastopol Gravenstein apples are falling off the trees, and the apple presses are filling the air with that unmistakable fall aroma. Pumpkin everything fills the grocery shelves, while the smell of cinnamon wafts from local bakeries and coffee shops. Our noses are responsible for 80% of what we taste, and fall is smelling lovely!
Our fall cookies positively burst with fresh, fall flavors that speak of home, hearth, and comfort, with pumpkin, apples, and spices. And because we source so many fresh ingredients locally, our cookies are that much better.
Farm to table cookies from fresh, local ingredients!
Local, fresh, natural, organic, and farm to table aren't just labels or buzzwords at COOKIE . . . take a bite! We use local ingredients whenever possible, for fresh, natural goodness, and to reduce the impact that shipping has on the planet.
COOKIE… take a bite! Wins Slow Food Award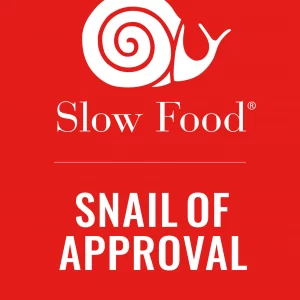 In fact, because we have contributed to the healing of the local food chain, we were recently awarded the Slow Food Snail Award! The mission of the Sonoma County local chapter of Slow Food, is to:
"Strive to create change in the food system by connecting our community with the people, traditions, plants, animals, soils, and waters that produce our food." Recipients have made a "significant contribution to improving the food system."
Local, Organic Flour
In our cookies we use locally-milled organic flour from Petaluma-based Central Milling because only the best flour will do for COOKIE . . . take a bite! cookies.
Local, Organic Butter
The difference between a good cookie and a great cookie often comes down to the butter. We use organic Straus Family Creamery butter in our cookies. Like us, Straus is family owned and operated. They have been producing 100% certified organic dairy products since 1994.
Fruit to Cookie
When we're sourcing fruit for our cookies, we're not ordering online from far-away fruit packers. We get deliveries from friends and neighbors right here in Sonoma county for our oranges, apples, plums, and red currants.
Fall Cookie Gift Tins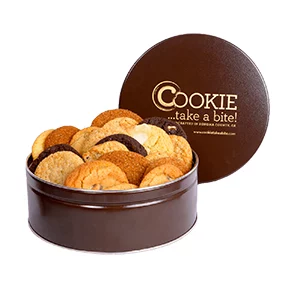 Enjoy all the flavors of fall with our COOKIE . . . take a bite! Fall Platinum Cookie Tins. All of our artisanal fall cookies are handmade daily, with all-natural ingredients, and local ingredients. Every platinum tin is packed with seasonal, mouthwatering flavors. 
Ginger Honey Snap Cookie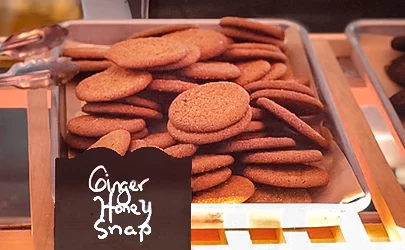 Brown sugar, butter, honey, molasses, ginger, and spices make this unassuming little treasure wake up the taste buds with an explosion of warm flavors.
Seasonal Pumpkin Puff Cookie
Nothing says fall like a pumpkin! It's like a mouth-watering, bite-sized, pumpkin cream pie. These light, creamy puff cookies melt in the mouth. Settle in with a steamy mug of hot apple cider, a fruity cup of tea, or a glass of Sonoma County pinot for the ultimate fall flavor combination.
Enjoy more fall pairing suggestions.
Gravenstein Apple Streusel Cookie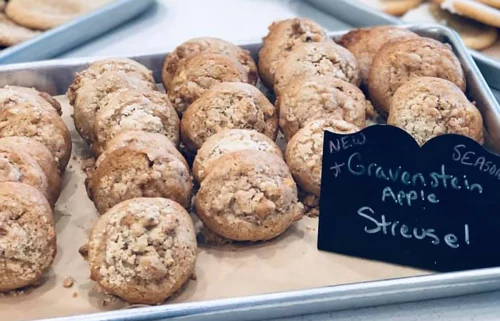 Fresh Gravenstein apples, a Sonoma County tradition, straight from local trees, are folded into our cinnamon sugar cookie, making it a perfect fall flavor. Gravenstein apples,
These delicious, fresh-baked fall cookies are great at disappearing, so you might want to purchase an extra tin, to make sure you don't run out!
Sample the Fall Flavors of Sonoma County with our Seasonal Cookie Tins
COOKIE…take a bite! is a family-owned and operated bakery located in Santa Rosa, California. Our gourmet cookies are handmade daily with premium organic and locally sourced ingredients. Every time you purchase any of our fresh baked cookies you are supporting a network of Sonoma County owned and environmentally conscious businesses.
Taste the love in every bite! You can order our cookies online for local pick-up at our Cookie Counter, or send cookies to loved ones near and far with local delivery, or nationwide shipping options! We also invite you to stop by our Santa Rosa cookie counter today for instant gratification.