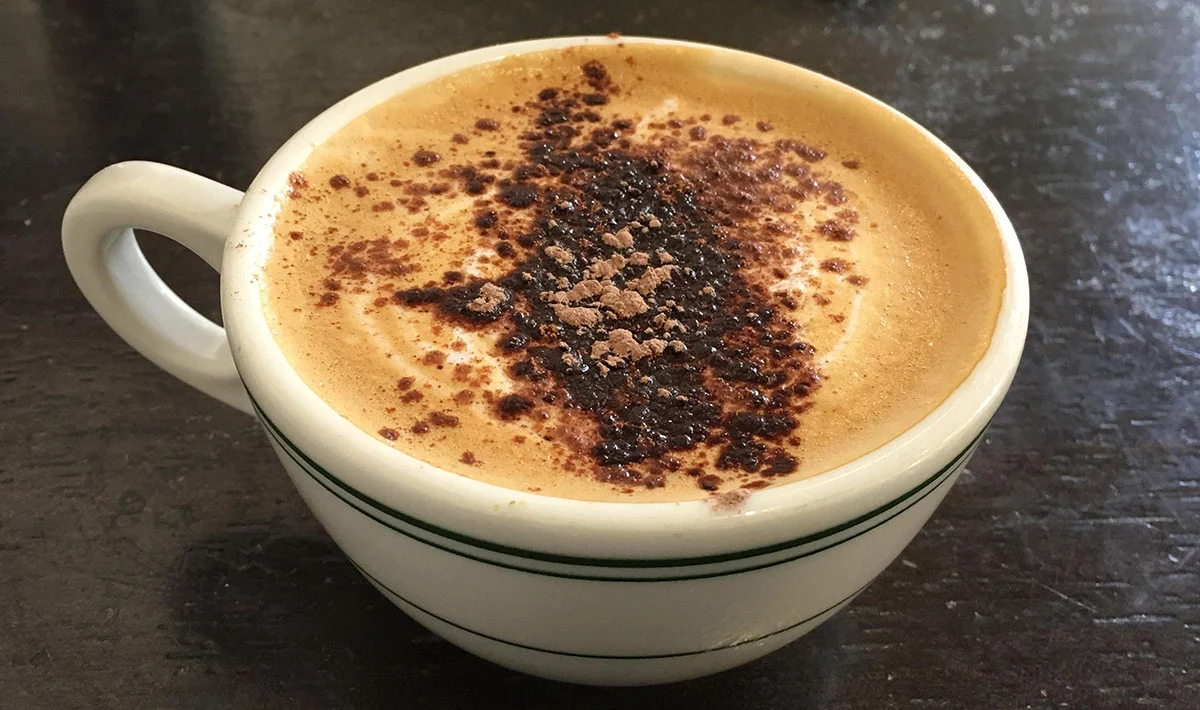 Cookies and Coffee: 12 Winning Combinations 
Fall is sweater season, pumpkin season, and most definitely hot coffee shop drink season. The weather is a little cooler and hugging that warm mug or to-go cup is an almost spiritual experience. So cozy, soothing, and warm.
What could be better?
Enjoying that warm ritual with cookies! Cookies make everything that much better.
But which cookies go best with which seasonal drinks? Read on for the perfect cookie coffee pairing options for your favorite fall coffee shop drinks.
Cookie Coffee Pairing for Purists – Black Coffee 
You like your coffee simple and uncomplicated. You just like coffee. If you don't need milk, cream, or sugar messing with the deliciousness of your black coffee, try these cookie flavors for the perfect pairing:
Peanut Butter Drop Cookie
Our Peanut Butter Drop cookies go great with a hot cup of black coffee. The rich, creamy peanut butter provides a sharp, but delightful contrast to your black coffee, pumping up the flavor of both. It's a win, win. Or a yum, yum.
Chocolate Cherry Bomb Cookie
The Chocolate Cherry Bomb will melt in your mouth like a sweet yet slightly tart chocolate truffle. Paired with black coffee, this fall flavor "bomb" will explode in your mouth. 
Cookie Pairing for Pumpkin Spice Lattes
It's finally fall, so you know what that means – PSL season! Some people live for pumpkin spice season, and we're just here to help make it even more delicious! If you're wondering what to enjoy with your creamy, pumpkin nectar, (besides a pumpkin spice cookie that's too easy), read on.
Coconut Macaroon Cookie 
The Coconut Macaroon is the perfect toasty little treat to compliment to the pumpkin flavors in a pumpkin spice latte. Imagine having a piece of coconut pumpkin cream pie. Mouthwatering perfection. 
Snickerdoodle Sugar Sparkler
The fresh cinnamon, touch of orange zest, and organic Straus Family Creamery butter in our Snickerdoodle Sugar Sparkler cookie take the common, yet beloved snickerdoodle to the next level and bring out the sweet cinnamon in your PSL. 
Cookie Combos with Peppermint Mochas
As a peppermint mocha drinker, you need a cookie that will satisfy your sweet tooth, and you'll likely never say no to more chocolate, or a crunchy, fruity cookie.
Sonoma Trekker Cookie
Our Sonoma Trekker is an award winning oatmeal and cranberry cookie. Pairing this delicious treat with a hot peppermint mocha provides a complex and familiar taste of home and holidays, while adding a satisfying crunch.
Triple Chocolate Threat Cookie
The Triple Chocolate Threat Cookie packs dark and white chocolate chips into a rich cookie for a melt-in-your-mouth chocolate explosion to compliment a minty mocha. 
Cookies and Chai Lattes
Nothing says fall like a hot chai latte. If you need the extra jolt, adding an espresso shot to make it a "dirty chai" is also a popular fall favorite.
Almond and Cardamom Roll Cookie
Fresh ginger and oranges mingle with almonds and cardamom in this Sonoma County Harvest Fair 2012 DOUBLE Gold Medal Winning cookie. The flavors of our Almond and Cardamom cookies blend seamlessly with the rich spices in your chai latte. 
Chai Shortbread Square
Chai spices make these buttery Chai Shortbread cookies the perfect pairing for a chai latte, extending the flavors and adding a hint of orange. 
Cookie Pairings for Salted Caramel Lattes
Salted Caramel Lattes, a fall favorite with a little sweet and a little salt, go great with apples and chocolate.
Gravenstein Apple Streusel Cookie
Fresh Gravenstein Apples are folded into this cinnamon sugar cookie. Combining it with a caramel latte is like having a caramel-covered apple without getting sticky.  
Aztec Hot Chocolate Crinkle Cookie
The warm spices in our rich, fudgy Aztec Hot Chocolate Crinkle cookie, will make your caramel latte unbearably delicious. 
Cookie Coffee Pairing for Vanilla Cappuccinos
The vanilla bean and the coffee bean create a simple, yet elegant flavor combination that's almost too good to be so easy. And adding cocoa beans or a little fruit takes it over the top.
Classic Chocolate Chip
Vanilla and chocolate has got to be the most classic combination. Our Classic Chocolate Chip cookies, made with organic butter, dark chocolate, and pure vanilla extract were made for vanilla cappuccinos. 
Orange and Vanilla Swirl Cookies
Our Orange and Vanilla Swirl cookies paired with a hot vanilla cappuccino, might as well be an orange creamsicle. And it's not nearly as messy.
Get an assortment for all your favorite fall cookie flavors
With so many choices, even providing these handy cookie coffee pairing ideas might make it tough to decide. No worries. You don't have to!
Share delicious gourmet cookies made from organic, locally sourced Sonoma County ingredients with your favorite fall drink. Check out all the seasonal cookie flavors we have available in our online shop and at our cookie counter to discover new delicious pairings for yourself!
You can also share your love of cookies with your favorite people, near and far, today with our Cookie Gift Tin delivery and nationwide shipping options! Feeling like something a bit stronger? We have you covered with Craft Beer Pairings and Wine Pairings, too!