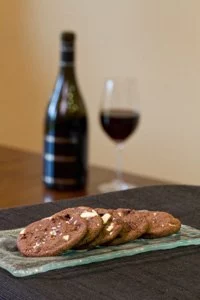 Pair Your Cookies with More than Just Milk!
Sonoma County has it all: rolling hills, the beach nearby, and bottles and bottles of fine wine. The wines produced in this region are some of the best in the world — and so are our cookies! Similar to wine, COOKIE…Take a Bite! cookies are full-flavored and made only with premium, locally-sourced ingredients.
You might already know that cookies pair well with milk, ice cream, and coffee…but have you ever considered pairing them with wine? A wine and cookie pairing is perfect for parties, holiday gatherings, or even a sweet date night.
Read on to discover five of our fabulous wine and cookie pairing suggestions:
Zesty Tea Cookie + Rosé
Rosé wines are super refreshing on hot summer days. Each brand and bottle is different, with flavors ranging from floral and fruity to crisp and zesty. This is why our Zesty Tea Cookie is the perfect pairing for rosé wine. Made with fresh lemons and pink peppercorns, this cookie is both sweet and savory, blending perfectly with the bright and vibrant flavors of rosé.
Citrus Burst Cookies + Chardonnay
Chardonnay is one of the top selling wines both within Sonoma County and across the globe! With almost 16,000 acres grown in this county alone, including chardonnay in your pairing party is a must. The flavors of this popular white wine range from rich and buttery (oaked) to fruity and fresh (unoaked). An unoaked bottle of Chardonnay pairs well with our Citrus Burst Cookie — a delicate, tangy, and refreshing cookie made with fresh local citrus.
Chai Shortbread Square + Rich White Wines
Our Chai Shortbread Square cookie is the perfect pairing for rich white wines, like an oaked Chardonnay. The Chai Shortbread Square is a sweet and spicy combination. Made with warm spices, decadent organic butter, and other delicious, locally-sourced ingredients, you are going to melt right into this luscious combination.
Chocolate Cherry Bomb + Pinot Noir
If you are a fan of red wines, you will go crazy for our variety of chocolate cookie flavors, including Chocolate Cherry Bomb. This decadent chocolate cookie contains freshly dried cherries, making it perfect for Pinot Noir lovers. At the forefront of many Pinot Noir tasting profiles is black & red cherries, plums, and raspberries. It is no wonder a glass of Pinot pairs so well with a Chocolate Cherry Bomb!
Ginger Honey Snap + Full Body Reds
Our Ginger Honey Snap cookies are the ideal complement to full bodied red wines, like Zinfandels and Cabernets. With touches of honey, molasses, fresh ginger and fresh oranges this outstanding cookie flavor will refresh and lighten your palate after sipping on a rich red wine.
Plan a Cookie and Wine Pairing Party with Cookie…Take a Bite! Flavors
Just like a glass of Sonoma County wine, it is hard to have just one of our cookies. The perfect solution to this dilemma is having a wine and cookie pairing party! With different custom cookie tray options available, your guests will be able to sample an array of flavors with different wines.
COOKIE…Take a Bite! makes wine and cookie pairing fun and surprising experience. These are not your average chocolate chip cookies from the grocery store. You are going to love our selection of creative, all-natural cookies that are hand-crafted with love. Ready for a pairing party? You supply the wine — we'll drop off the cookies!