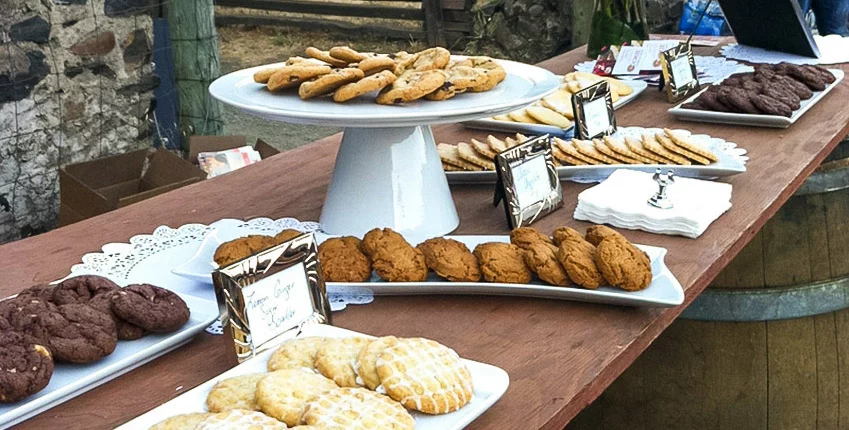 Learn why cookies are the perfect summer wedding desserts and how to display them
Still need a cake for your summer wedding desserts? Maybe you don't. Instead of asking the question, "What kind of cake should we have at our wedding," you might ask, "Does it have to be cake?"
Advantages to ditching the cake for wedding cookies
Cookies have a lot going for them and their appeal is pretty universal. Not only do we think cookies make the best dessert option, but they also have some pretty sweet advantages over traditional wedding cakes.
Endless display options
When it comes to wedding desserts, how they are displayed can be just as important as how they taste. With cookies, there are endless wedding display ideas! One of our favorites is displaying the variety of flavors with an open cookie bar, spelling out the names of the happy couple, or arranging them in a giant heart.
Even if you love the idea of a towering cake, you'll be amazed at the ways cookies can be stacked and crowned with a wedding topper.
The ultimate mess-free dessert
When planning a wedding, there are a million moving pieces to juggle. One of the many benefits of opting for wedding cookies over a cake is it's one less mess to worry about. Say goodbye to dessert forks and cake serving utensils, and hello to an easy-to-transport and even easier-to-eat, delicious wedding dessert.
Don't forget about those pesky cake-cutting fees – yeah, you read that right. Wedding vendors often charge a fee per slice of cake to cover the clean-up costs. Wedding cookies seem like the perfect money-saving loophole to that!
Something for every guest's taste buds
With cookies, you can offer several varieties of cookie flavors, so there is sure to be a tantalizing treat for any guest's taste buds. As an added plus, most guest lists will likely include at least one or two folks with food allergies or sensitivities. Cookies make it so easy to cater to these needs without any fuss.
If you're doing a cookie bar, you can make sure to have the varieties clearly marked with GF for gluten-free, or "contains nuts," etc. Or just provide the name of the cookie on each tray or platter, and place the food alerts for each variety on a key tastefully placed on one end of the table.
The perfect wedding favor
Serving cookies at your wedding is unique in and of itself, but sending your guests home with them as wedding favors is sure to delight everyone! Instead of spending money on knick-knacks, wedding cookie favors are a great way to thank everyone for coming and give them a delicious send off. You can also include a special message that they can keep as a memento long after the cookies are eaten.
Choose COOKIE… take a bite! for hassle-free summer wedding desserts
Make sure guests keep coming back for seconds with irresistibly delicious, fresh-baked wedding cookies! At COOKIE… take a bite! all of our artisanal cookies are handmade daily, with all-natural ingredients sourced right here in Sonoma County.
You can order our cookies online for local delivery, pick-up, or even nationwide shipping. We also invite you to stop by our Santa Rosa cookie counter today to get your wedding order started.
Not only do we think cookies make the best dessert option, but they also have some pretty sweet advantages over traditional wedding cakes.