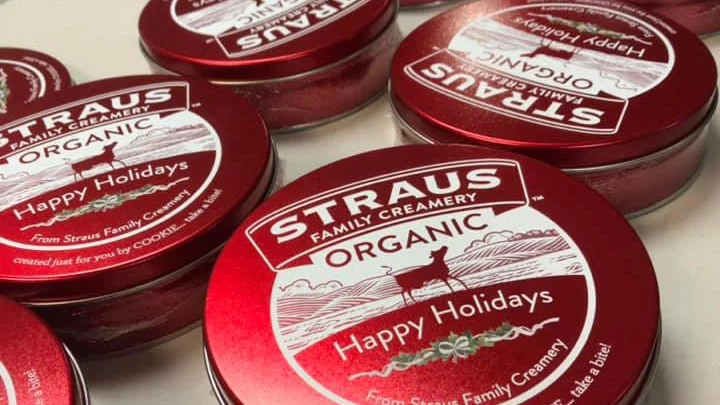 There are Many Reasons to Give Custom Cookie Tins!
The holidays are just around the corner, meaning you should be thinking about gifts for loved ones right about now! Whether you are a business owner or simply looking for a customized gift to give family and friends, a custom cookie tin might be just what you are looking for.
Not only are custom cookie tins filled with delicious cookies, they can be printed with your personalized holiday message. Read on to find out all the reasons a custom cookie tin is the perfect holiday gift:
Customize Your Cookie Tin with Your Business Logo
For companies and business owners who are looking to send a sweet gift to employees or clients, a customized cookie tin is the perfect solution. We offer custom-printed tins with your logo and message directly on the tin lids. Not only will your clients love the cookies, the thought and care you put into your message will not go overlooked! It will be the first thing they see when their cookie tin arrives.
Stay on Budget with Petite Cookie Tins
Do you have a lot of employees, clients, or friends & family to send cookies to? COOKIE…Take a Bite! Offers petite cookie tins filled with 16 mini chocolate chip cookies. They are perfect when you aren't quite sure which of our cookie flavors to choose for such a large group.
Recipients Can Reuse Cookie Tins after the Holidays
Cookie tins are perfect vessels for these sweet treats. And not only are they the perfect container for cookies, they can be reused for many different reasons, for years to come.
Keep a Holiday Cookie Tradition Alive!
Do you remember neighbors coming over with a plate full of cookies every holiday season? While Santa is usually left a cookie or two, some families make it a tradition to bake a variety of cookies for their neighbors. With COOKIE…Take a Bite! custom cookie tins, we make this a tradition that is easy to carry on! Let us to the baking, packing, and delivery, while you sit back and wait for Santa.
Choose Your Cookie Flavors for Your Cookie Tins
With COOKIE…Take a Bite! Deluxe and Premium cookie tins, you get to choose what cookie flavors are included. Just like those traditional cookie plates, your recipients will get to try an array of delicious cookie flavors.

Deluxe Cookie Tin: 16 cookies – 4 flavors
Premium Cookie Tin: 25 cookies – 5 flavors
With so many tasty flavors, the hardest thing about ordering your custom cookie tins will be picking out the cookies!
Now is the Perfect Time to Order Custom Cookie Tins for the Holidays
Now is the time to start planning your logo and artwork, and getting those custom cookie tin orders in! Lead time 3-4 weeks once your artwork is approved. Get the process started by filling out the form on our website, or calling COOKIE…Take a Bite! at (707) 291-1785. Don't forget to ask about what tin colors are available — they change with the seasons!