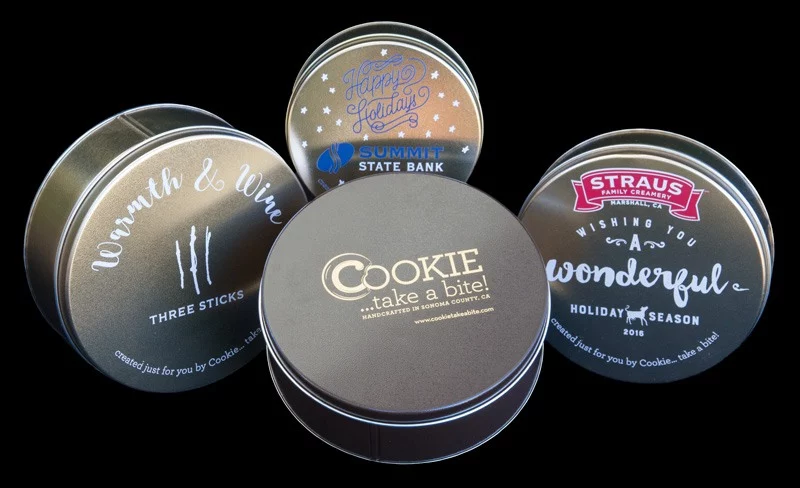 Show Your Employees You Appreciate Their Work with Custom Cookie Gifts
If anyone deserves a "Thank You" right now, it's the hard working employees who dedicate their time and energy every day to helping your business succeed. After the roller coaster of the year we all had, your team deserves to be celebrated with a thoughtful appreciation gift! Our custom printed cookie gift tins from COOKIE…Take a Bite!, are full of the most delicious seasonal cookies, baked with fresh Sonoma County ingredients. With our award-winning cookie flavors there is something for every employee to love – from Classic Chocolate Chip to our tangy Lemon Moon.
Whether your team is in need of a morale boost, or you simply want to show your employee some gratitude for their good work, cookies will always be a great workplace appreciation gift for any occasion!
1. Show Company Pride with Custom Cookie Gift Tins Printed With Your Logo
Custom printed cookie gift tins featuring your company logo make a great impression that your employees belong to a fun-loving company that is proud of their staff.
You can even include a personalized message printed right on the tin to let your message of appreciation shine. Before your employees even dive into the cookie goodies, your customized message will be the first thing they see.
Cookie tins even come in a variety of colors with limited seasonal options to celebrate different times of the year! The thought and care you put into this custom gift will not go unnoticed, and your team will enjoy it even more with every delicious bite!
2. Boost Employee Morale with Gourmet Cookie Gifts
It's the little things that matter a lot to happy employees. Studies show that employees that feel appreciated generally enjoy their jobs more, and are much more likely to work efficiently, and show company loyalty. In fact, 90% of employees in the study said that a fun work environment is one of the most motivating factors they have to work better! What's more fun than a surprise delivery of fresh-baked cookies?
3. Cookie Gifts Are the Perfect Employee Appreciation Gift for a Company of Any Size
Smaller businesses and bustling corporations can take advantage of COOKIE…Take a Bite!'s custom printed cookie gift tins. The program starts with orders as few as 24 personalized cookie tins to thank teams for a great job, all the way to larger amounts for a full company celebration.
We offer a variety of custom printed cookie gift tin sizes as well!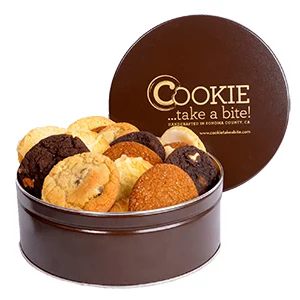 Premium Custom Printed Cookie Gift Tins
Come with 25 delicious cookies and five unique flavors that are guaranteed to be a hit!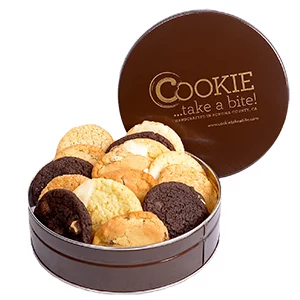 Deluxe Custom Printed Cookie Gift Tins
Come with 16 cookies and feature four of our most popular flavors.
4. Send Remote Workers Custom Printed Cookie Gift Tins
Change is never easy, especially in a fast-paced work environment that suddenly shifts to working from home! But your employees adapted, worked hard, and ensured your business' success over the tumultuous last year. Send a little gratitude to their doorstep with our custom cookie gift tin!
COOKIE…Take a Bite! offers quick and easy shipping anywhere in the country so your team can enjoy fresh cookies no matter where they're working from! We also offer local delivery in Sonoma County from our renowned Cookie Van, or you can stop by our Santa Rosa Cookie Counter for convenient pick-up!
As more businesses return to in-person work in 2021, a custom printed cookie tin gift is the perfect "welcome back" gift to start the whole team off with a treat!
Thank Your Employees with Custom Printed Cookie Gift Tins from COOKIE…Take a Bite!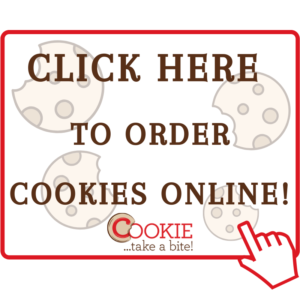 If you're looking for that perfect way to thank your team members for their great work and dedication, COOKIE…Take a Bite! has the answer. All our artisanal cookies are baked fresh daily with premium local Sonoma County ingredients.
So, whether they're accomplishing a big project, celebrating a work anniversary, or you just want to thank them for a positive attitude, give them the gift of cookies with our personalized cookie gift tins!