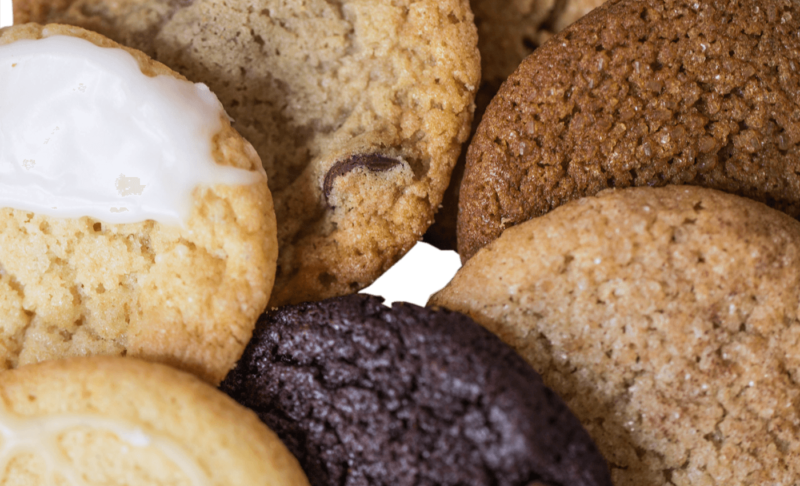 Cookie of the Month Club Subscriptions Make Perfect Holiday Gifts
Are you thinking about what gifts to give your loved ones for the upcoming holidays? Sometimes it is so hard to decide! Whether you are simply stumped or know a certain family member or friend already has it all, a COOKIE…Take a Bite! Cookie Of The Month Club cookie subscription is a sweet gift everyone loves receiving.
Each month, Cookie of the Month Club members will receive two dozen cookies in an elegant gift box. The flavors change each month to reflect seasonal bounties and holiday themes. Many people love giving our cookie subscriptions to friends and family because it is the perfect way to show they care, all year long. Even as the holidays pass, a special gift will keep arriving every month.
Read on to find out more reasons our Cookie of the Month Club subscription is the perfect holiday gift for loved ones:
A Cookie Club Subscription is the Gift That Keeps on Giving!
Subscribe your friends and family to one whole year of cookies, or less! COOKIE…Take a Bite! Cookie of the Month Club subscriptions are available in several different levels, allowing you to choose one that is best for your budget and their taste. There are several options to choose from when picking out your Cookie of the Month holiday gifts:
Two dozen fresh cookies will be shipped to their home for every month they are subscribed. COOKIE…Take a Bite! cookie flavors are creative, delicious, and made from all-natural ingredients — your friends and family are going to love them!
Make Their Cookie Club Subscription Gluten-Free!
If you are worried that your gluten-free family and friends, we have a Cookie of the Month Club subscription just for them! Our gluten-free Cookie Club flavors include:
Peanut Butter Drop – A flourless peanut butter cookie with a touch of grey sea salt on top creates a sweet and salty celebration of flavors.
Aztec Hot Chocolate – A rich fudgy cookie juxtaposed with warm spices makes this a fun and exotic cookie.
Coconut Macaroon – A touch of lemon makes this cookie a sweet treat.
Friends and Family Will Love Their Cookie of the Month Club Subscriptions
If you are looking to give the perfect gift, consider the COOKIE…Take a Bite! Cookie of the Month Club. Not only are you giving a delicious gift, you can rest assured that you are supporting a local business that has mastered their craft.
COOKIE…Take a Bite! is a family-owned bakery located in Santa Rosa, California. Our gourmet artisan cookies are handcrafted daily and made with premium ingredients. If you haven't tried our cookies yet, stop by our NEW retail counter in our Larkfield, Santa Rosa location! Come, see, and taste for yourself why our cookies make the perfect holiday gift!