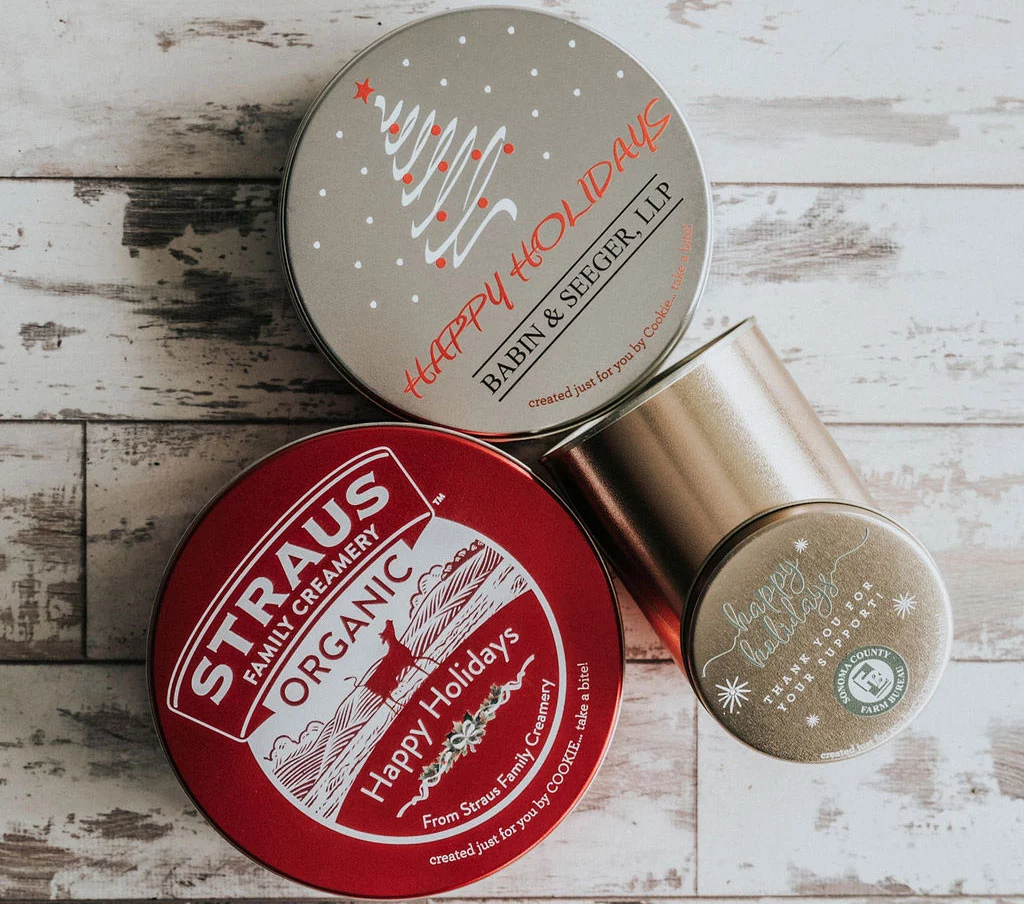 So you want to tie your brand to a gift that will reflect the quality of service that your business offers, while also being generic enough to appeal to a large variety of people – is this a riddle?
No, it's not a riddle, but it is a challenge that many companies face. Providing quality service is one thing, but forming long-lasting relationships with your clients and building a positive reputation as a brand takes thoughtful effort. Thank you gifts, and other corporate gifts are a great way to do this, but finding the perfect favor can be challenging.
That's where we come in! At COOKIE… take a bite! we are here to make corporate gift giving as easy as possible, because what says, "I care", better than handmade cookies?!
Read on for five reasons our custom corporate cookie tins are the perfect client gift for any occasion.
1. Corporate Cookie Tins Make Gift Giving Easy
With our corporate cookie gift tins, you will never need to worry about how to make a good impression with a thoughtful gift again. From welcome gifts to loyalty programs, freshly baked cookies are a great offering no matter the occasion. Our delicious, all-natural cookies will always be a welcomed treat, and having your custom design printed elegantly on the gift tin makes these corporate gifts a no-brainer.
2. Show Your Customers You Value Them
These days, people are endlessly bombarded with generic efforts from businesses vying for their attention. From endless spammy emails offering free gifts to novelty knick-knacks that no one really needs (or wants) – junk mail is the norm.
When you are giving a gift to corporate clients, it's critical to invest in quality so that your true appreciation shows. Sending your most valued clients a corporate cookie gift tin with a handwritten note shows them that they're valued and that your company is willing to show that in a memorable way.
At COOKIE…take a bite! we know quality matters. That's why all our gourmet cookies are made with local and all-natural ingredients.
3. Send Your Clients a Unique and Memorable Gift
Unique and memorable gifts that provide your customer with a positive experience will always be a better gift option than some random bric-a-brac with a logo stamped on it. When your corporate client opens up their gift tin and the sweet comforting smell of fresh-baked cookies greets them, they'll attribute that satisfaction and excitement to your company.
4. It's an Affordable Way to Say 'Thank You!'
Just like no one appreciates a gimmicky gift, no business wants to feel like they are just throwing their money away! Quality corporate gifts that your clients will actually like do not have to be expensive to purchase and give.
With our gourmet cookie tins, you can give your most valued customers a delicious handmade gift that they will love without breaking the bank. Our customized cookie tins are an easy way for you to give your clients something that is within your budget and that they are sure to enjoy.
Show Your Clients You Care with Custom Corporate Cookie Tins from COOKIE… take a bite!
Our corporate cookie gift tins are completely customizable, so you can have your logo beautifully printed on each one. Having your branding elegantly presented alongside deliciously fresh-baked cookies allows your business to remain memorable to your corporate customers.
If you're in a jam and need a thoughtful gift to send to a client like yesterday, we also carry a large selection of cookie gift tins that can be quickly shipped nationwide along with a thoughtful note.
You can shop all our cookies and customizable cookie tins online, or stop by our Santa Rosa cookie counter today!