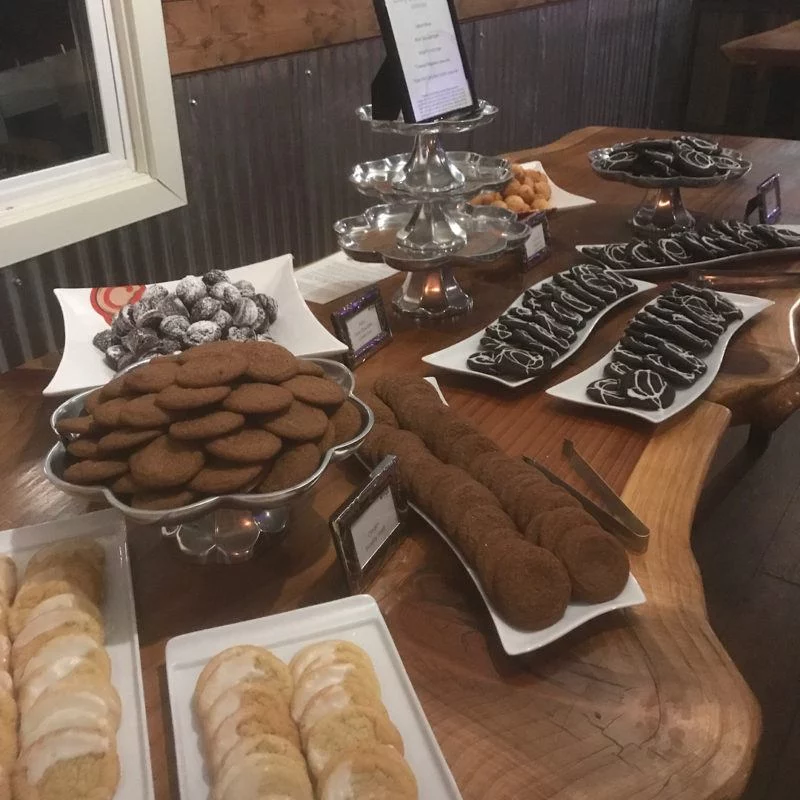 Wedding Dessert Bars are Trending!
We know wedding planning is a lot of work. Everything — from the venue to the menu — needs careful consideration. Are you planning an upcoming wedding in Sonoma County? Congratulations! Weddings are the perfect time to celebrate love, your new life together…and dessert!
Rather than the traditional wedding cake, many couples are featuring dessert bars at their receptions. They are fun & interactive, and provide an option for everyone. We love the trend and are going to take it one step further — a cookie bar is going to be the perfect addition to your wine country wedding!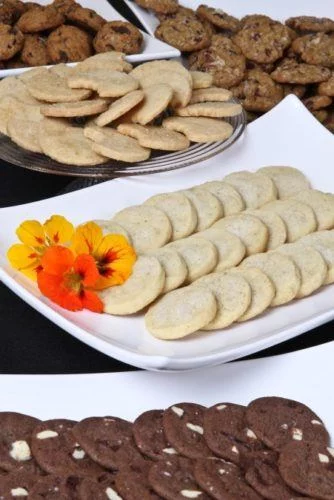 A Wide Variety of Cookie Flavors
Cookie bars are popular because there are so many different flavors to choose from. When you order a wedding cake, guests are usually limited to one flavor. With so many classic and unique flavors, a COOKIE…take a bite! cookie bar is sure be a crowd pleaser.
COOKIE…take a bite! also specializes in gluten free options, so no one misses out at your wedding cookie bar. Our delicious gluten free cookie flavors include:
Almond & Cardamom Roll
Aztec Hot Chocolate Crinkle
Coconut Macaroon
Peanut Butter Drop
Our Spring, Summer, Winter, and Fall flavors are also a great way to celebrate the season of your wedding. We will work with you to develop cookies that match your special day and deliver a fresh-baked selection to your venue.
COOKIE…take a bite! provides a cookie bar extravaganza experience that everyone will remember. Along with providing artisan, hand-crafted cookies, we can help you set up a visual display that will "wow" your guests on your wedding day.
Minimize Food Waste by Skipping the Sheet Cake
Cake is great! But sometimes there is just too much at weddings. You might have ordered a cake with your guest count in mind, but not everyone ends up eating it…and you end up hauling it home at the end of the night. Ordering a smaller "sweetheart cake" for the couple and providing a dessert bar for wedding guests helps minimize food waste and save freezer space.
Cookie bars are especially great because the tasty treats travel so well! Guests will love bringing home an extra favor at the end of the evening. Set up your cookie bar with cute kraft bags to ensure no cookie is left behind.
Options for Every Budget
The cost of weddings can seriously stress couples out. Food is one of the biggest costs, so it is important to try to save money without sacrificing quality. COOKIE…take a bite! has cookie bar options for every budget. No matter how many cookies you need for your wedding, delicious cookies will be baked-to-order for your big day.
Fresh-Baked Cookies for Your Sonoma County Wedding Dessert
A cookie bar is the perfect way to end a stunning celebration and delicious meal. No matter how you set your cookie bar up, guests will love being able to try an array of cookie flavors. COOKIE…take a bite! cookies are fresh, scrumptious, and the perfect size for cookie bars.
You will also love working with a local wedding vendor who is known for exceptional personal service and premium ingredients. COOKIE…take a bite! will be thrilled to take part in your special day and make it a wonderful and tasty event to remember! To schedule a tasting, contact Tracy at info@cookietakeabite.com or 707-291-1785.