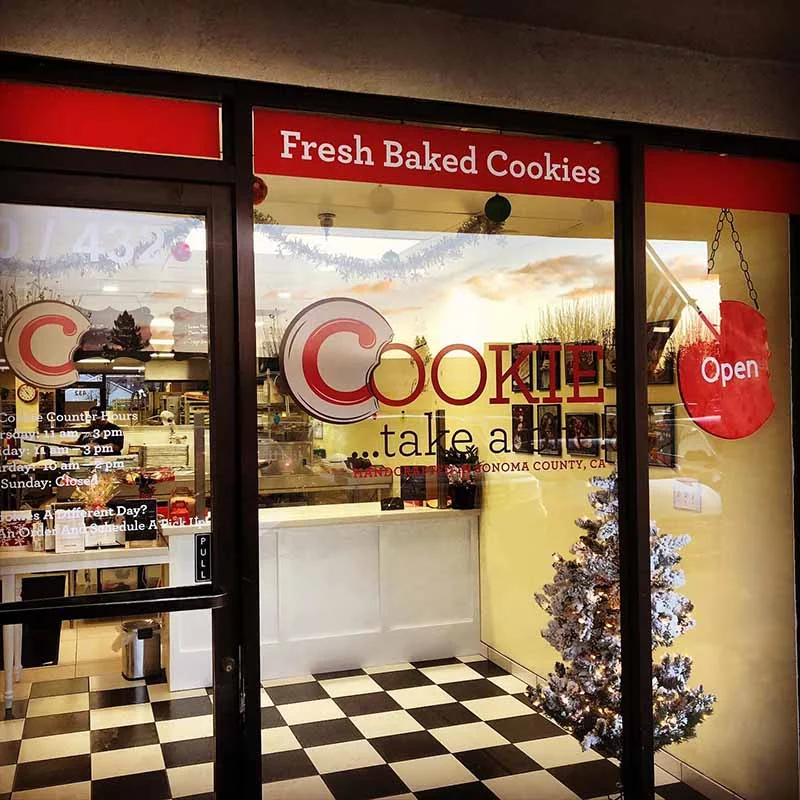 Have You Visited The COOKIE… Counter Yet?
Do you ever need a little mid-day pick me up? Or did you forget it was your turn to bring the treat to the office party tomorrow? COOKIE… Take a Bite! has you covered! Our bakery has expanded and we now have our very own cookie counter in Santa Rosa.
Our goal at COOKIE… Take a Bite! Is to provide our customers with delicious cookies, freshly baked with the finest Sonoma County ingredients. Stop by our new cookie shop in the Larkfield Shopping Center and taste the love for yourself.
Get Fresh Baked Cookies at Our Santa Rosa Shop
You will never have to worry about buying stale baked goods again! We added our cookie counter to make sure our baked treats would always be available fresh out of the oven and into your hands. Our counter is open Thursday – Saturday and pre-orders can be scheduled for pick up any day of the week.
Avoid Shipping Fees! Pick-Up Your Order at Our Cookie Shop
When you order COOKIE… Take A Bite cookies online, you now have the option for local pick-up! Skip the shipping fees and schedule to pick up your order from our new cookie shop in Santa Rosa. Simply provide your preferred pick-up day and time at checkout!
Most Popular Orders at COOKIE… Take A Bite
Occasion Tins are perfect for any holiday and include our fresh, handmade cookies, arranged beautifully in festive wrapping.
Cookie Platters provide your guests or colleagues with fresh, all-natural cookies of your choosing arranged on an elegant cookie tray. We have vegan and gluten-free options available, just ask!
Custom Cookie Tins are the perfect gift for any occasion and include your favorite flavors presented in a stylish tin.
Not a Local to Sonoma County?
Just because you don't live nearby doesn't mean you have to miss out on delicious gourmet cookies! No matter where you live, you can join our Cookie Of The Month Club cookie subscription and receive FREE shipping on your monthly cookie deliveries! Learn more about all the perks of joining our monthly cookie subscription in our blog "A Gift For Those That Have It All: Cookies!"
Not Sure What Flavor to Get? Stop by Our Cookie Bakery for a Taste Test
Stop by our cookie counter and get the freshest sweet treats right out of the oven! When you come into our bakery and cookie shop you get access to all our exclusive in-store only cookies! You can also be the first in line for all our seasonal flavors that are only available for limited times throughout the year.
Most Popular Flavors at COOKIE… Take a Bite!
Our Peanut Butter Drop Cookie is a gluten-free favorite with a sprinkle of sea salt on top. Perfect for anyone craving a sweet and salty gourmet treat.
The Triple Chocolate Treat Cookie is a chocolate cookie made with dark chocolate chips and white chocolate chips. Triple the treat in one dessert.
Our Lemon Moon Cookie is a customer favorite and our signature cookie! Made with local lemons.
Visit Santa Rosa's Newest Cookie Counter!
Come enjoy a sweet treat at our Cookie Counter in Santa Rosa. Order online today and pick it up at your convenience, or stop by for a quick sweet snack! Surprise the office, classroom, or someone special with fresh baked COOKIE… Take A Bite! artisanal cookies. You can find us at:
430 Larkfield Center
Santa Rosa, CA 95403 (In the Larkfield Shopping Center)
Open on Thursdays & Fridays 11 AM – 3 PM
Saturdays 10 AM – 2 PM
Need cookies on a different day? Order online and schedule a pick-up any day of the week. Unable to stop by the Cookie Counter? No need to worry! You can find COOKIE… Take a Bite! cookies at a number of local stores in Sonoma County!