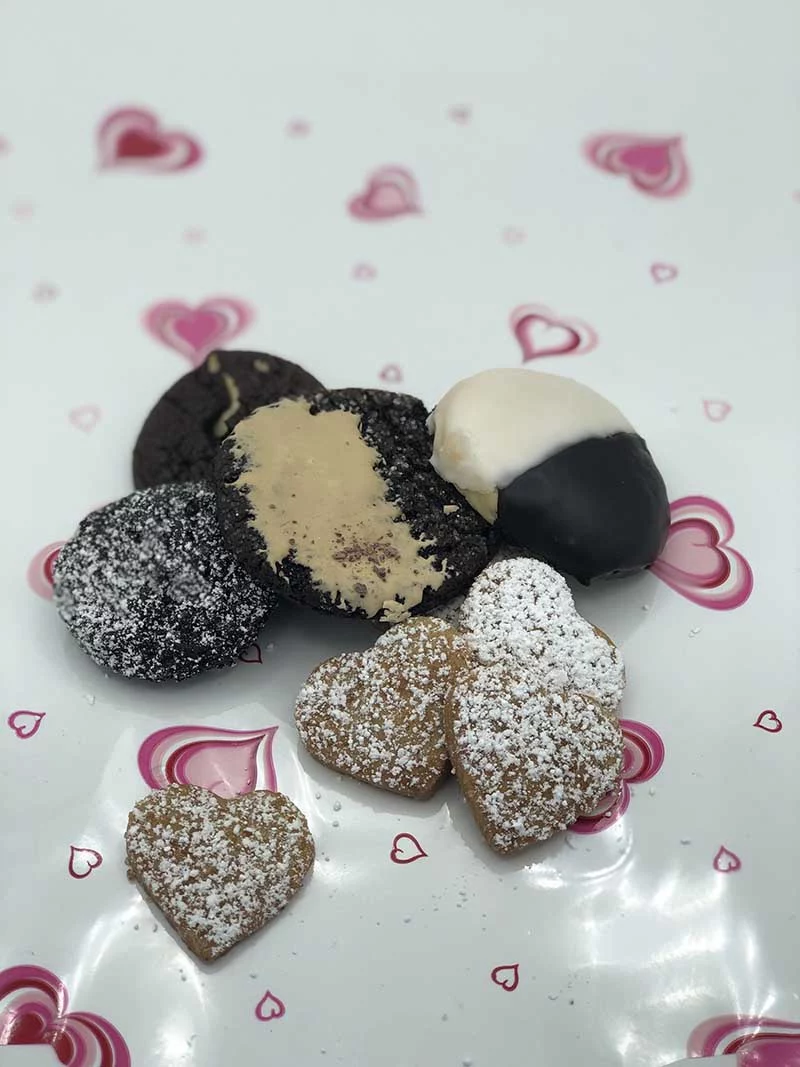 What's a Sweeter Valentine's Day Gift than Cookies?
Looking for a unique way to show someone you care this Valentine's Day? Satisfy every sweet tooth with COOKIE… Take A Bite! artisanal Valentine's Day cookies. Each cookie is handmade with the highest quality local ingredients from Sonoma County. You can taste the love in every bite of our gourmet treats.
Calories don't count on Valentine's day! Indulge in a special treat from COOKIE… Take A Bite! and share the joy with the ones you love, near and far.
Order Gourmet Valentine's Day Cookie Tins
Our Valentine's Day gift tins are perfect for every Valentine's Day celebration! Order one for the office, classroom, or that extra special someone in your life. COOKIE… Take A Bite! Valentine's Day gift tins include our fresh, handmade cookies, arranged beautifully in festive wrapping.
Don't miss out on our special Valentine's Day flavors and order our Valentine's Premium Tin before it's too late. These specialty tins are filled with 25 of our luscious chocolate cookies and wrapped in a decorative foil to make a complete gift.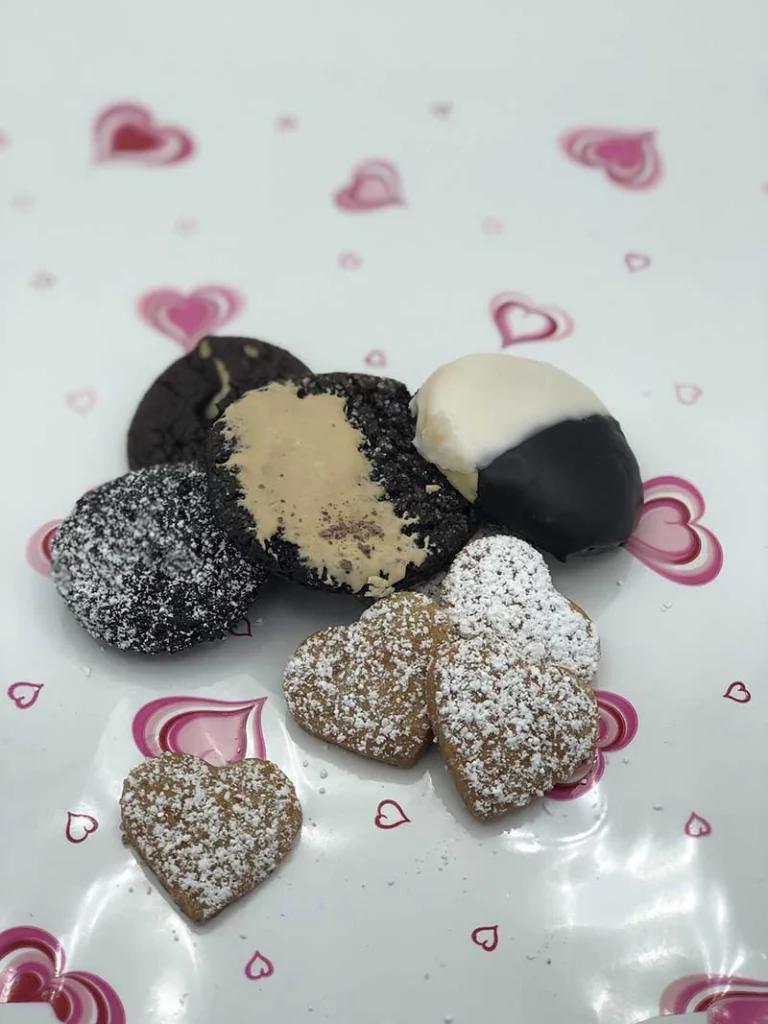 The Valentine's Day tin includes the new Mocha Frost, Black and Whites, Triple Chocolate Threat, Aztec Hot Chocolate and Cinnamon, and Spice Hearts.
Build your own cookie tin and share our handmade cookies with the people you care for most this Valentine's Day. Let us know it's for your Valentine, so we can make sure to add our decorative wrapping.
Pick Up Your Specialty Valentine's Day Cookie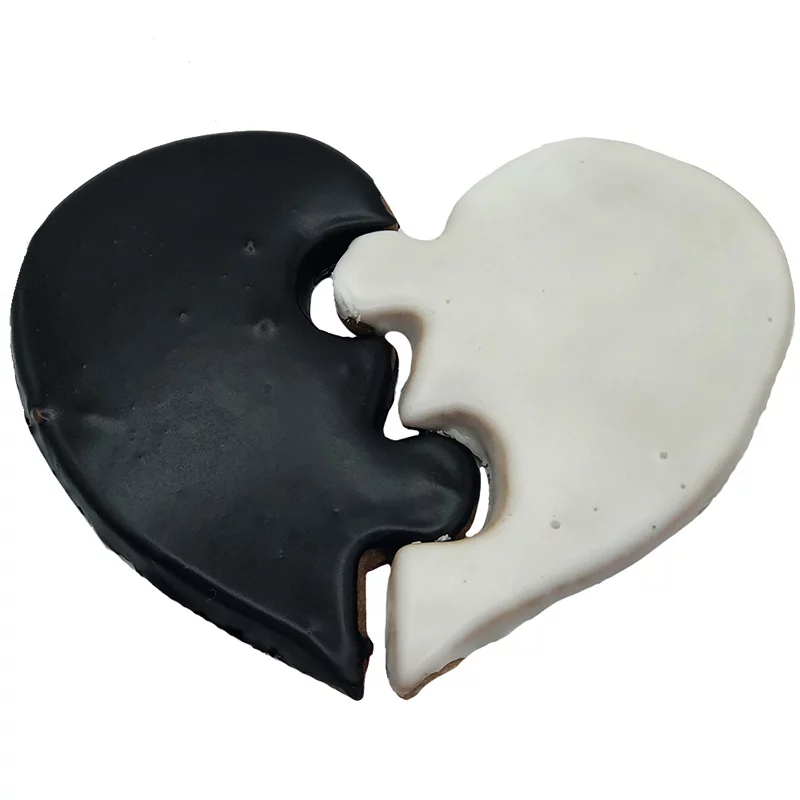 COOKIE… Take A Bite! cookies are a thoughtful and delicious surprise that everyone can enjoy. For all our Santa Rosa neighbors, we have a special Valentine's Day pick-up treat! Our "Hearts Are One" sugar cookie is available in-store only and is perfect for any last-minute Valentine's Day shoppers.
Yin and yang, 2 peas in a pod, milk and cookies – any way you look at it a perfect fit! This special heart-shaped puzzle cookie comes wrapped in a cute bag for easy gift giving.
We offer Valentine's Day Gift Delivery!
At COOKIE… Take A Bite! we want to help you celebrate love near and far. Surprise a special someone with a Valentine's Day Cookie Tin delivered right to their doorstep. Our gourmet cookies ship nationwide in decorative gift boxes that ensure they arrive fresh and beautiful. Make sure your Valentine receives their gift in time, and place your orders by February 11th.
Celebrate Valentine's Day with Sweet Gifts from COOKIE…Take a Bite!
If you are looking to give the perfect Valentine's Day gift, COOKIE…Take a Bite! has you covered. Stop by our new Santa Rosa location for any last-minute Valentine's Day treats or order your Cookie Tins online for nationwide delivery, or in-store pick-up.
At COOKIE…Take a Bite! our artisanal cookies are baked fresh daily with premium local Sonoma County ingredients. Come, see, and taste for yourself why our cookies make the perfect Valentine's Day gift!