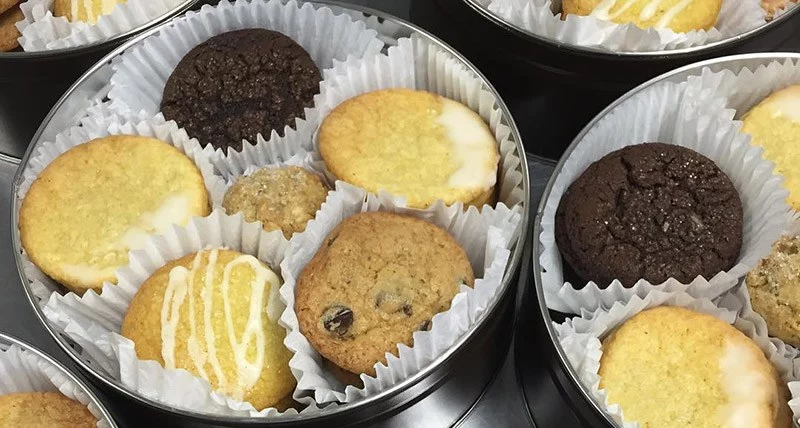 Hit the Sweet Spot by Sending Custom Cookie Tins as Corporate Gifts
Whether you are a small business or large organization in Sonoma County, corporate gifts are the perfect way to show your appreciation for your clients or employees. While many companies tend to give gifts around the holidays, it also makes sense to celebrate achievements, business milestones, and other events in the workplace. And, let's be real: everyone likes cookies, any time of the year!
Our custom cookie tins will be a fantastic addition to your corporate gift giving program. COOKIE…take a bite! flavors range from classic Chocolate Chip to the tangy Lemon Moon … there is sure to be a flavor that every client enjoys.
Here are a few ways you can be sure you are giving the perfect corporate gift to clients.
Go Local with Your Corporate Gift
Say hello to local love and goodbye to generic gift giving! Not only does choosing local gifts show you care for your community, it is likely that you are sending a gift that is higher in quality than a generic one. In the case of our personalized cookie tins, the gift you send will be baked-to-order, ensuring fresh, mouth-watering cookies that your clients can't resist — not those stale, baked-and-packaged months ago cookies they are used to receiving.
The COOKIE…take a bite! bakery is located in northern Santa Rosa and we are happy to help Sonoma County businesses give delicious, handcrafted corporate gifts.
Your Gifts Should Have Personalized Style
Custom printed cookie tins are a trifecta of personalized goodness. You can use your company logo and add a personalized message to clients, while a choice of four customizable tin colors can help you stay on brand. Clients won't soon forget your gift — they will be able to reuse the custom tins for years to come.
Personalizing our cookie tins is easy. Simply upload your unique design on our website and let us take care of the rest. After you approve the artwork, tins will be ready for pick up in 3 to 4 weeks.
Customize Your Corporate Cookie Gift Based on Your Client's Taste
Another great thing about giving custom cookie tins as corporate gifts is the ability to cater to your client's taste (literally). If you remember that a certain client LOVES chocolate, you will be sure to include the Triple Chocolate Threat flavor in their tin. Is another client allergic to nuts? We'll make sure to keep the Peanut Butter Drop out of there! There is nothing worse than receiving a generic box of chocolate and hating 75% of the pieces — we feel the same way about cookie tins! There won't be a crumb left behind if you keep your client's taste in mind.
There are three sizes of custom cookie tins to choose from, all of which we can take care of shipping for. Here are just a few of our delicious flavors you will be able to include in your custom cookie tins for clients:
Classic Chocolate Chip
Snickerdoodle Sugar Sparkler
Lemon Moon
Ginger Honey Snap
and more!
If you are looking for the perfect corporate gift to give, and hate the idea of a generic basket that claims to be "gourmet," one of our custom cookie tins sounds like the right choice for your business. We're ready to receive your files and fill your tins with fresh-baked cookies. Head over to our Corporate Cookie Gifts page to start your order today!