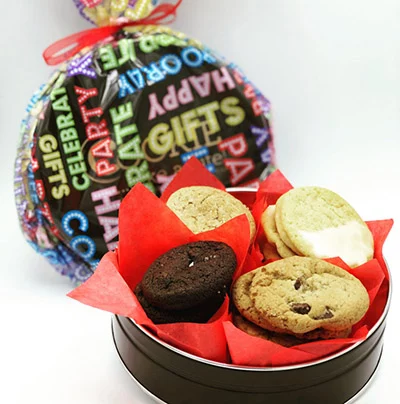 How to Make Any Birthday Gift Unforgettable with Delicious Cookies
Are you looking for a unique way to celebrate the birthday of someone you love? Birthdays come but once a year, making them one of the most memorable occasions in peoples' lives. If you are trying to make someone's special day extraordinary, you might consider cookies!
Cookies are one of the best birthday treats. Not only are they absolutely scrumptious, but, for the picky eater, there is a wide variety of cookie options to choose from. We have been baking up some truly delicious birthday treats and new gift ideas to help you celebrate!
Ditch the boring store-bought cake everyone is expecting. Celebrate your loved one with new and classic birthday gifts from COOKIE… Take a Bite!
Try Our New Celebration Cookie Cake
This is what every cookie-lover dreams of: a giant birthday cookie cake! Our new Celebration Cookie Cake is a ten-inch version of our Snickerdoodle Sugar, Lemon Sugar, or Classic Chocolate Chip flavors. Not only does your loved one receive a supersized gourmet cookie, a personalized message with fun script iced on top. This is the ultimate cookie-version of a classic birthday cake.
Get more details on our new Celebration Cookie Cake, here.
Enjoy a Variety of Flavors with a Birthday Cookie Tin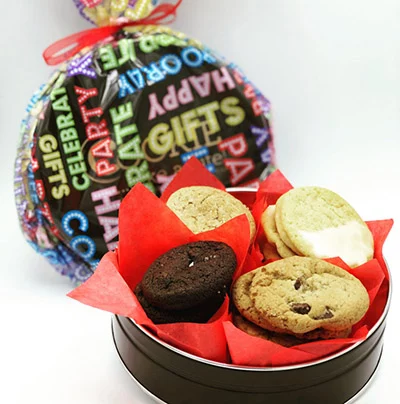 If you know someone who is a fan of different cookie flavors, they will love receiving a variety tin from our Sonoma County bakery. Birthday variety tins contain 16-25+ cookies in different flavors, making them perfect for every palate. No matter their age, anybody will love receiving one of our decorative birthday cookie tins on their special day!
Shop all of our birthday cookie tins, here.
Have a Birthday Cookie Tin Delivered
Are you celebrating someone's birthday from afar? We offer flat rate nationwide shipping to get your cookie tins where they need to go and when they need to get there. Every order is packed with personalized care to ensure it arrives safely and fresh out of the oven!
Give the Gift of a Cookie of the Month Subscription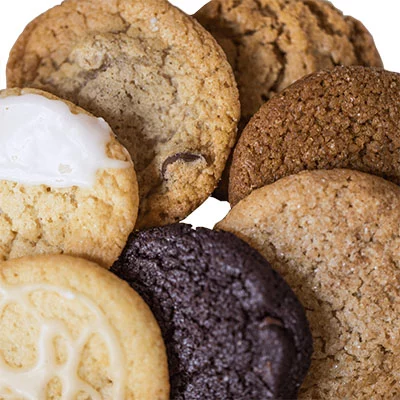 If you truly want to treat someone on their special day, a subscription to our Cookie of the Month Club is the gift that keeps on giving! Each month the new club member will receive two dozen cookies wrapped in an elegant gift box.
Celebrate your loved one with a 3-month, 6-month, or full-year subscription of birthday cookies sure to satisfy any sweet tooth.
Find out more about our monthly cookie flavors or order a Cookie Of The Month Club cookie subscription for yourself!
Let Them Pick Their Own Cookies at our Santa Rosa Cookie Counter
For Sonoma County locals, a special birthday treat might include stopping by our Santa Rosa bakery for freshly-baked cookies. Let them feast their eyes on our cookie display counter, breathe in the warm cookie-scented air, and dig into our delectable cookie creations. A visit to our bakery will create a memory that will last for years to come.
Stop by our Santa Rosa cookie counter located in Larkfield shopping center, today!
Make Their Next Birthday the Best Yet with Delicious Cookies
If you are looking for the best way to say "Happy Birthday," we think cookies are the way to go. With so many ways to incorporate cookies into your next birthday celebration, you can't go wrong!
Whether you are celebrating a birthday here in Sonoma County or one across the country, we are sure to have an option for you. Place your order online, call us, or stop by our Santa Rosa bakery, today. Cookie…Take a Bite! is ready to ensure your birthday gift is one they never forget.