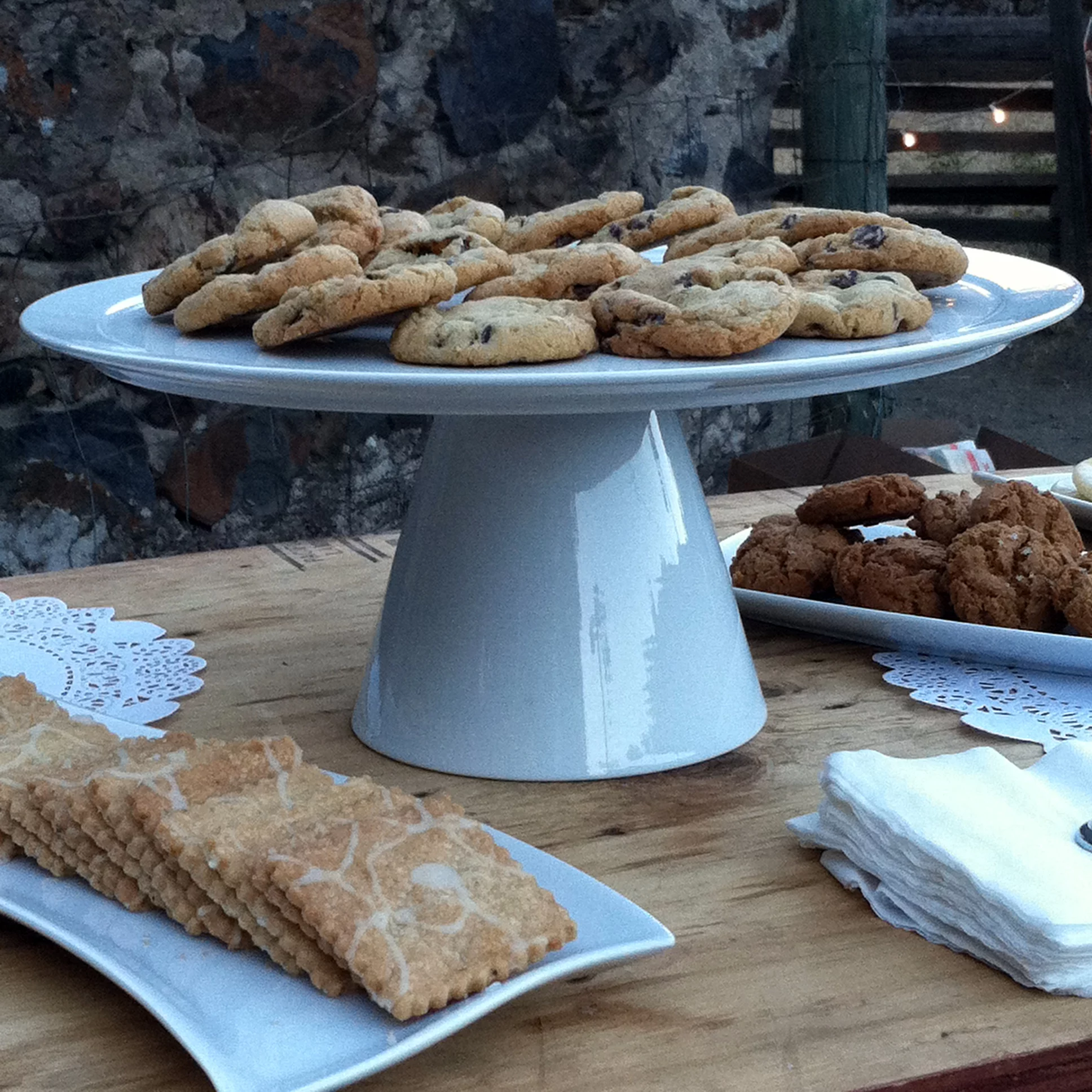 A well-loved tradition, long enjoyed at wedding receptions in several eastern states, has slowly been making its way to California: the cookie table!
At COOKIE… take a bite! we love to help people celebrate their happiest occasions with freshly baked, gourmet cookies. So the Cookie Table is a tradition we are excited to see gaining popularity throughout wine country.
Read on to learn more about this delicious tradition and for some tips on how to incorporate a cookie table in your wedding!
The Cookie Table Tradition
Cookie tables have been around since the Great Depression when they increased in popularity due to the high cost of a wedding cake. The tradition, part of the American experience, was brought over to the East Coast by immigrants from Eastern Europe and Italy.
Wedding Cookie Tables
The cookie table remains a customary feature in weddings throughout Western Pennsylvania, West Virginia, and Eastern Ohio. There's even been a cookie table museum exhibit in Youngstown, Ohio.
In certain parts of the country today, a cookie table is expected, and sometimes it's even more important than the cake or dinner. In fact, many enthusiasts believe it would not feel like a wedding unless there's one at the reception!
How to Set One Up at Your Wedding
As wedding planners look beyond the typical baked goods, there are several things to consider when planning an event with a cookie table.
How Many Cookies Will You Need?
Knowing how many cookies you will need to delight all your wedding guests can vary. A good rule of thumb is to plan on serving a minimum of four cookies per guest. Although, a wedding cookie table with up to a dozen desserts per guest is not unheard of!
At a 2019 wedding reception, 88,425 cookies were served, breaking all previous records and making it to the Guinness World Book.
What Kind of Cookies Should Go on a Cookie Table?
Traditional style cookie tables usually include pizelles, lady locks, Italian wedding cookies, biscotti, and fruit horns. But the types of cookies you add to your dessert table is entirely up to up you! Cookies can be elaborate or simple, with or without fruits or nuts – the options are endless.
At COOKIE… take a bite! we think adapting the tradition to suit you and your guest's preferences is essential to ensure everyone gets to enjoy a sweet treat! We have a large selection of cookie flavors all made with local seasonal ingredients that can suit many different diets and lifestyles.
Our Almond and Cardamom Roll cookies are a beautiful addition to a cookie table. Made with fresh ginger, oranges, almonds, and cardamom these cookies are also gluten-free and vegan.
It wouldn't be a Sonoma County wedding without wine, so we also have a variety of cookies that pair perfectly with many local wines. Like our Zesty Tea cookies which are the perfect pairing for a fresh and fruity Sonoma County Rosé.
Our Chocolate Cherry Drop cookies have hints of fresh, sweet cherries and a delicate chocolate center making it a great dessert to pair with red wine like a Sonoma Pinot Noir.
How Should I Display a Cookie Table?
There is no right or wrong way to set up a cookie table display! You can have a single table of cookies and platters or multiple displays featuring dozens of beautiful cookies all becoming to be enjoyed. Making your cookie table a surprise for your guests and having a big reveal can add even more excitement to your celebration.
Should I Give Cookies as Wedding Favors?
Absolutely – yes! Having a cookie table at your wedding is unique in and of itself, but sending your guests home with delicious wedding favors is sure to delight everyone! One of the goals of offering cookies at a wedding is to elicit warm and happy memories of the wedding day even after the event has ended. In the days to follow, while your guests delight in their personal take-home containers full of cookies, it is sure to bring a smile to their faces and fond memories of your big day.
Create a Cookie Table for Your Sonoma County Wedding with COOKIE… take a bite!
A wedding is a romantic and memorable event, and now it can be made even sweeter with a cookie table for everyone to enjoy! At COOKIE…take a bite!, our gourmet cookies are handcrafted with love and made with premium organic ingredients from Sonoma County.
All of our cookies are available to order online or we welcome you to stop by our Santa Rosa cookie counter for a small sample. Come, see, and taste for yourself why our cookies make the perfect addition to your wedding!