We pride ourselves on the abundance of unique flavors and creative cookie options we create. We have everything from organic cookies, to vegan, to gluten-free and seasonal cookies in every color of the rainbow. We take flavor seriously, and each of our cookies looks as good as it tastes.
With so many delicious options at your disposal, it can be difficult to decide which ones to try first!
Not sure which ones to pick? We have you covered. Below we have crafted the ultimate guide to our favorite cookies. Hope you take a bite!
The Ultimate COOKIE…take a bite! Guide
Almond and Cardamom Roll
Rolling past all that's bland and boring, this exotically flavored cookie packs a refreshing, zesty flavor coupled with satisfying almond crunch. Did we mention it's gluten-free and vegan? Yeah, dig in.
Chai Shortbread Square
Short of nothing, our Chai Shortbread Squares can multitask as a casual family treat or a sophisticated pairing to any delicious local wine. It's filled with spices that will warm you right to the heart. Share with your family or coworkers with our Chai Shortbread Deluxe Cookie Tin.
Chocolate Cherry Bomb Cookies
Talk about a bombshell! This Chocolate Cherry Bomb Cookie is a crowd favorite. This cookie features a delicate center and to-die-for chocolate and cherry flavor combination. For adult enjoyment, pair with any favorite Sonoma Pinot or try it with cold milk for your kids.
Cinnamon Pecan Swirl Cookies
Swirl into a heavenly sea of cinnamon spice and fresh pecans. This is a fantastic holiday treat and a tried-and-true crowd pleaser. Be sure to check out our Fall Platinum Tin if you're stuck on gifting ideas but want to spread joy this holiday season!
Classic Chocolate Chip
If it ain't broke, don't fix it. The Chocolate Chip cookie has been satisfying sweet tooths for decades, so we're keeping it as a main staple of our lineup. The traditional recipe gets our own unique twist on it, boosting the chocolate flavor and adding an extra crispy edge. Chocolate chip aficionados will be sure to enjoy our Classic Chocolate Chip Tin.
Coconut Macaroon
Fair warning, you might go coconuts for our Coconut Macaroon treats. They're gluten-free bites of heaven that have a secret pinch of zesty lemon in every delicious morsel.
Mint Chocolate Kiss Cookie
Lovers of mint everything, we have you covered. The Mint Chocolate Kiss cookies will not leave you stranded in search of your daily mint fix. Generously infused with fresh mint and organic butter, it's a rich, melt-in-your-mouth experience.
Ginger Honey Snap Cookies
Ginger and spice and all things nice is a good way to describe our Ginger Honey Snap Cookies. They are filled with the freshest of ginger and infused with delicious locally-sourced honey. Added bonus: They taste wonderful with wine.
Aztec Hot Chocolate Crinkle
Our head baker has worked all over the world, providing high-end, delicious desserts. Her Aztec Hot Chocolate Crinkle is one of the many testaments to her worldly culinary talent. Enjoy this gluten-free treat year-round.
Sonoma Trekker
Whether you're going hiking and need a quick energy boost, or just want to get back to your homey roots, the Sonoma Trekker will do the trick. Filled with oatmeal and cranberries, it's healthy and full of flavor!
Snickerdoodle Sugar Sparkler
At COOKIE…take a bite! we pride ourselves on using only the best ingredients. That's why we use local ingredients like Straus Family Creamery organic butter in our cookies. Our Snickerdoodle Sugar Sparklers are soft, buttery, and generously touched with cinnamon.
Raspberry Chocolate Splash Cookie
Splash through your day with the Raspberry Chocolate Splash Cookie. It's chocolatey and fruity with just the right amount of Raspberry fun! And if you're hyped about this signature creation, you'll be ecstatic about our Premium Variety Tin full of flavor favorites!
Orange and Vanilla Swirl Cookies
If you're looking for a refreshing twist over classic cookie flavors, our citrus and vanilla cookie will provide you with a truly invigorating flavor combination.
Lemon Moon
If you have some citrus-loving friends or coworkers in your life, show them how much you appreciate them with our fresh and zesty Lemon Moon cookies. Gift them our deluxe Lemon Moon Cookie Tin for an ultimate gift.
Mocha Swirl Cookies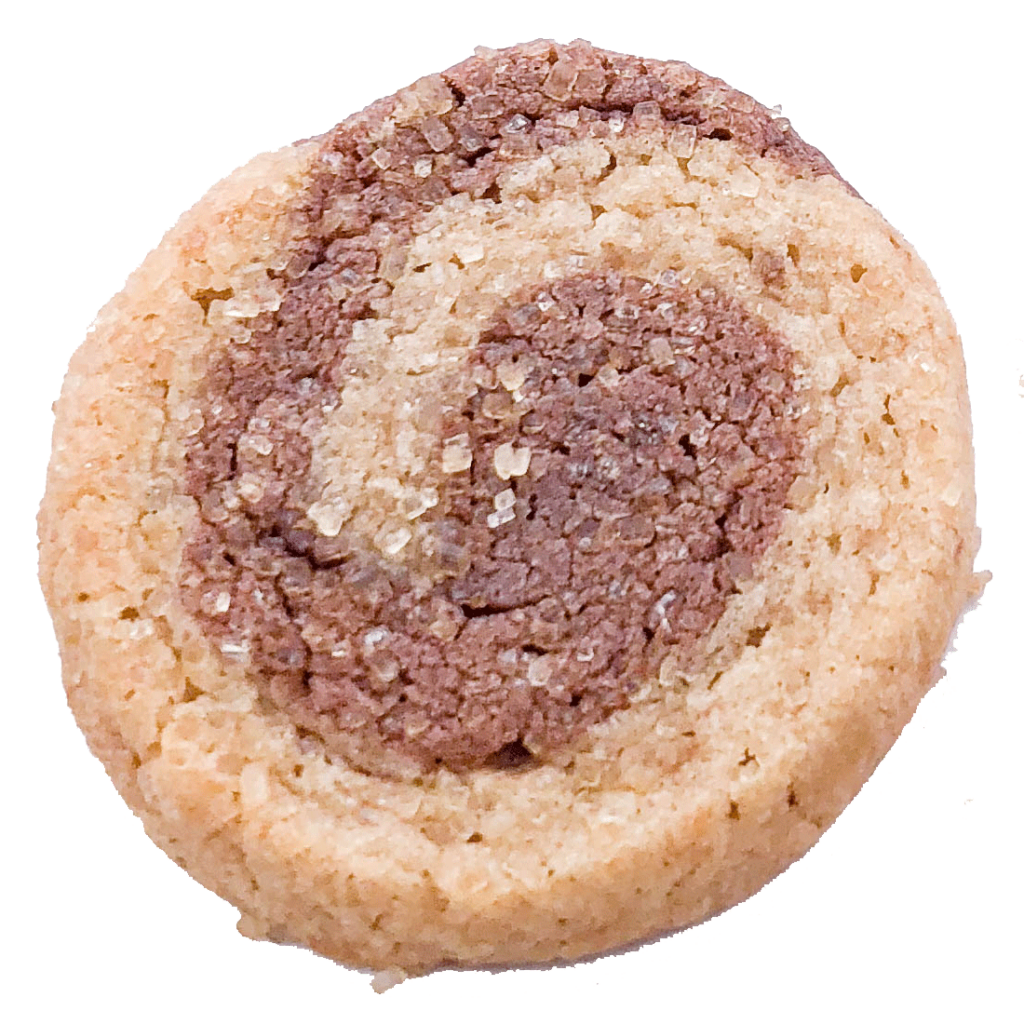 This half and half cookie embodies the ying and yang-type balance we all strive for in life. A perfect pairing of espresso swirled with sugar cookie dough makes for a coffee-lover's dream of a cookie.
Peanut Butter Drop
What's flour-less but not flavor-less? Our gluten free Peanut Butter Drop cookies are! Enjoy the touch of gray sea salt mixed with rich peanut butter. This is our Double Gold Medal Winner of the Sonoma County Harvest Fair!
Triple Chocolate Threat Cookies
Stop what you're doing and try our Triple Chocolate Threat cookies! These scrumptious cookies are packed with three different varieties of chocolate. This cookie is truly a chocoholic's dream come true. If you just can't get enough chocolate in your life, order our Chocolate Lovers Deluxe Cookie Tin to get your fix.
Zesty Tea Cookie
What would a tea party be without delightful treats? Match our fresh zesty, pink peppercorn masterpiece with a cup of tea or a classy glass of wine. We won't tell anyone. In fact, for all you wine lovers, we've even made our Wine Pairing Cookies Tin.
Order Your Custom Cookies Today
At COOKIE…take a bite!, we pride ourselves in providing delicious, organic and handcrafted cookies shipped nationwide. This year, we're excited to offer personalized corporate cookie tin boxes for the holiday season! Our Corporate Gifts collection allows us to print your logo and message directly on our deluxe or premium tins. Give your clients the gift they will remember you by! To order a corporate cookie tin please call or order online today.