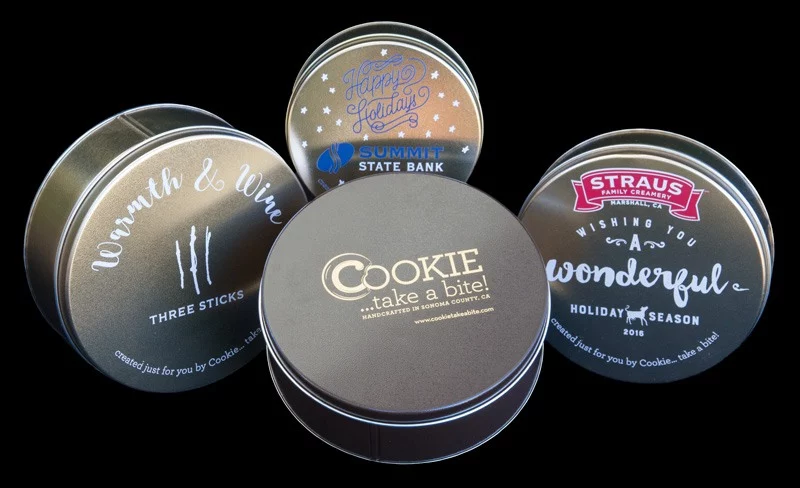 Whether it's that time of year or a just because occasion, sending out a token of your appreciation to your professional peers and contacts is always a welcome sentiment. If you're stuck on what you could gift and are looking for something distinctly different yet altogether tasteful, then a personalized tin of freshly baked cookies may be just what you've been searching for.
Our custom cookie tins and trays make for delightful treats that are fresh, natural, and baked to order. Bring a smile to any face and remain in the minds of every recipient.
Simply Put – It's a Nice Thing to Do
Foremost, giving someone a special gift is just plain nice. It's a sign that you care about the people in your professional field, whether they're an assistant, client, or executive. When you send a gift around the holidays or any occasion in between, it becomes so much more meaningful when the gift in question is personally selected and customized. It can help strengthen the bond between you and shows that you value their continued service or patronage.
They'll Enjoy Locally Baked Custom Cookies
At COOKIE…take a bite we strive to create unique flavors and provide creative cookie options. Every one of our delicious cookies is sure to taste as good as they look.
Our cookie varieties include vegan and gluten-free options in order to satiate the sweet tooth of those with dietary restrictions. Plus we utilize seasonal ingredients to craft delicious sweets that fit the occasion and come in many flavors to satisfy all cookie lovers!.
With so many options, the hard part will be choosing which cookies to include!
They'll Remember You Even Once the Cookies are Gone
Talk about reinforcing your professional relationship. Sending a corporate gift around the holidays, special occasion, or just because is a wonderful way to market your company and encourage your clients or professional contacts to keep you in their minds. Not only can this increase your brand awareness, but it can also help you get unexpected recommendations from your current clients.
Every sweet bite they take will remind them of your thoughtfulness and our customizable cookie tins may carry lasting staying power.
Personable & Customizable Cookie Tins
With our custom cookie tins, you can create a wonderful gift that will delight your clients and professional contacts. Choose your logo design to place on the tin, pick out the tin style and choose the cookie flavors to fill it with. Get creative; include your company logo or theirs, along with a personal message to be printed directly onto our tins. You won't be sending just any ordinary corporate gift you picked out at random, you'll be gifting them personal appreciation and thanks for their business or partnership. Click Here for order minimums, set up charges, and process.
Order Custom Gourmet Cookies Today!
COOKIE…take a bite is a boutique operation creating small creative cookies that are big on flavor. This year, we're excited to offer personalized corporate cookie tins, perfect for the holidays or any occasion in between. Our Corporate Gifts & Custom Orders collection allows us to print your logo and message directly on our deluxe cookie tins. Give your clients a gift they will remember you by. To order our corporate cookie tins please call our bakery or order online today!