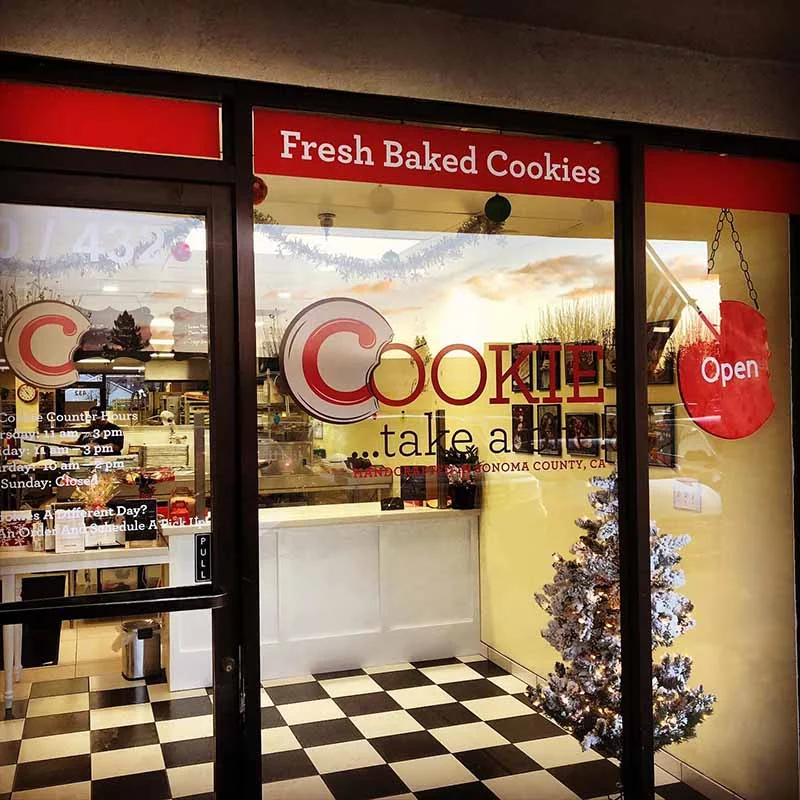 How We're Moving Forward as a Small Cookie Bakery During a Pandemic
Since mid-March, the coronavirus pandemic has affected our Sonoma County cookie bakery in a number of ways. From a dramatic drop in sales and staff changes to new safety guidelines and regulations, things have been changing fast and we have needed to adapt swiftly. But through it all, our goal has always remained the same: spreading the love to our community…one cookie at a time!
Moving Forward as a Small Business During COVID-19
Not surprisingly, business was down for us at COOKIE… Take a Bite! when the pandemic started. The first two weeks were devastating for many reasons, leaving the future of our bakery uncertain.
COOKIE…Take a Bite! Core Values Coming to Light During COVID-19
Like many others during this time of crisis, we have taken a moment to reflect and recalibrate our focus at COOKIE…. Take a Bite! It has been a long and uncertain couple of months and we have had to take a hard look at our business, make tough employment decisions, and work diligently to stay true to our mission.
Personalized Service for Our Valued Customers
Through this entire experience, the biggest benefit of operating our cookie company in this amazing county has been you – our customers! The amount of support we have received from our local community has brought new energy to our goal of providing the highest quality products and personalized service to all our customers.
Upon reflection, we see we were never going to be a wholesale monster with cookie bags in every national grocery store chain, and we don't want to be! Our goal is to invest in our local bakery so we can continue to provide the best personalized experience to our customers.
With support from Sonoma Family Meal, local companies like Traditional Medicinals, Straus Organic Creamery, Oliver's Market, and most importantly our amazing customers and family, we survived the worst of the economic hit and now we are ready to move forward doing what we do best!
Custom Cookie Tins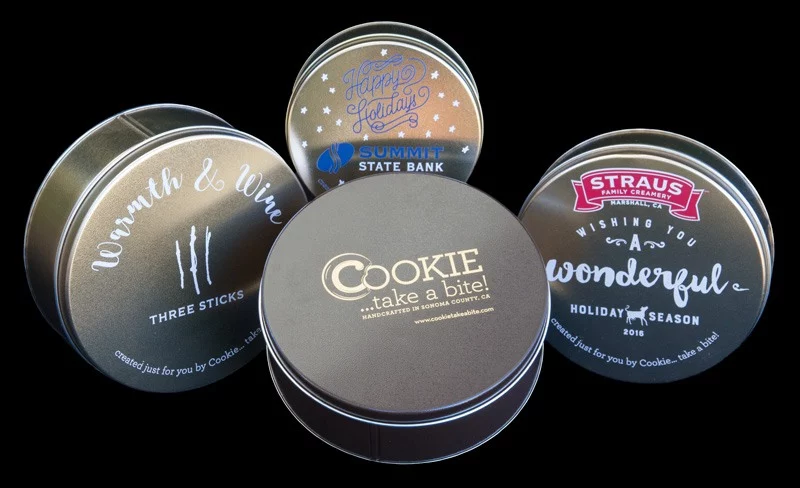 Our Customized Cookie Tins have offered many businesses a delicious way to remind their supporters how much they appreciate them! Customize your cookie order from COOKIE… Take a Bite! and we will print your company logo and personalized message directly onto your tin! Send your team or valued customers and supporters a delicious gift with your personal touch today.
'With Gratitude' Cookie Care Packages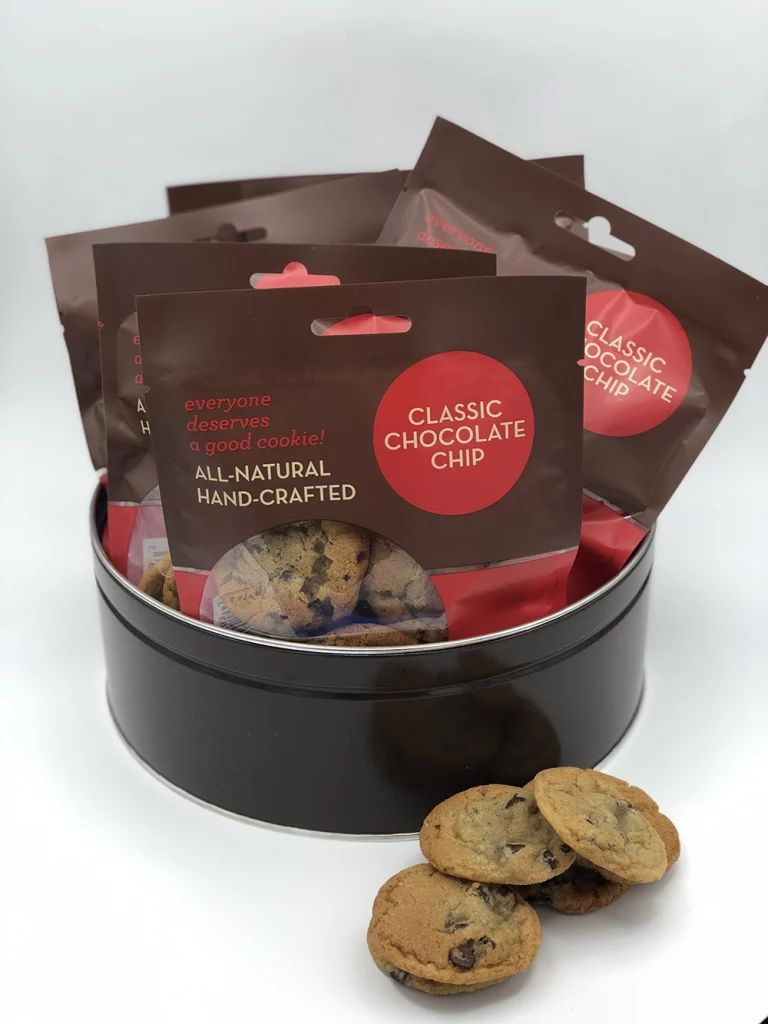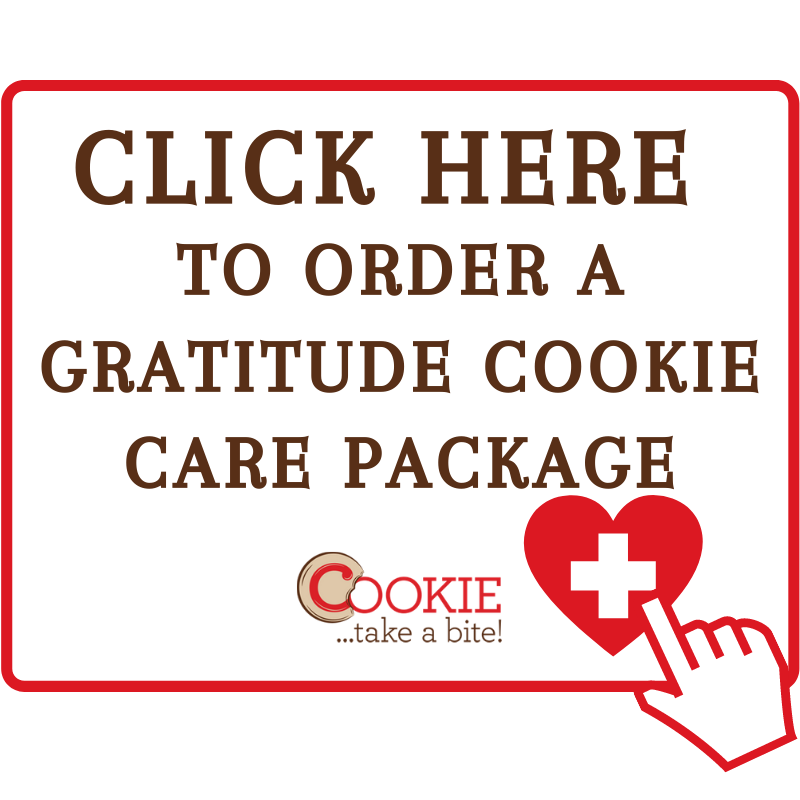 We are so happy to have such great support delivering cookie care packages to the health care workers throughout Sonoma County via our Gratitude Cookie Care Package program. Our partnership with Sutter Santa Rosa Regional Hospital and Kaiser Permanente Santa Rosa has been more successful than we could have ever imagined, all thanks to you! We have added Santa Rosa Memorial to the list of recipients too!
Free Cookie Gift Delivery in Santa Rosa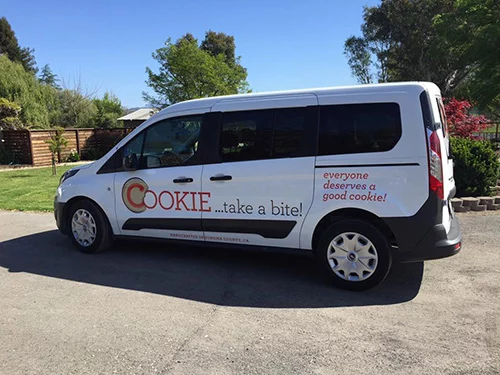 Our entire team is honored to provide a little sweetness during times like this and love seeing our community reaching out to each other with such kindness. As a "Thank You" we are now offering free local delivery anywhere in Santa Rosa, and a flat rate of only $5.00 anywhere else in Sonoma County. Keep an eye out for our cookie van as we deliver our fresh baked cookie orders all throughout our beautiful county!
Nationwide Cookie Shipping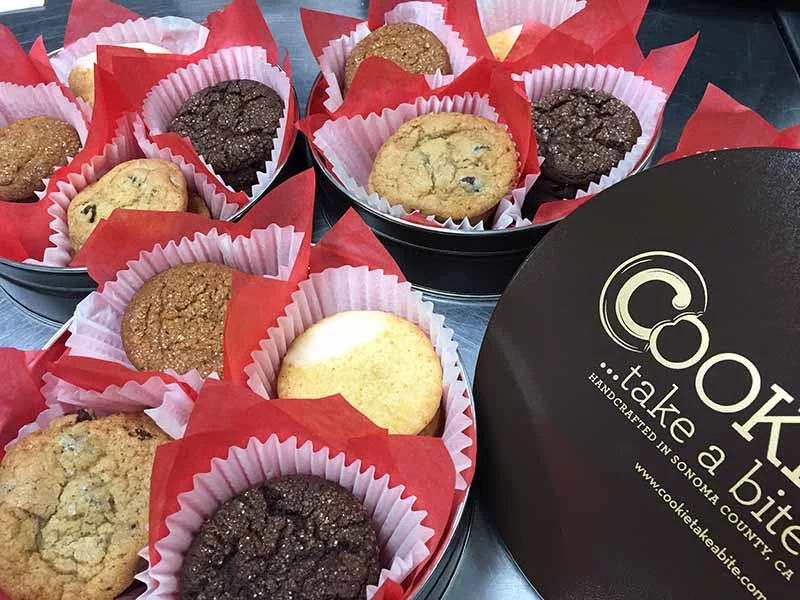 It is so humbling to see all our customers sending our cookies to their friends and family with the most touching notes attached. At COOKIE… Take A Bite! we want to deliver the highest quality cookies, baked fresh, and delivered right to you or the home of a loved one. To ensure our gourmet cookies arrive fresh and beautiful, we ship nationwide with
personalized care and a flat rate of only $5.00!
Celebrate Community and Small Business Perseverance with a Cookie (or Two)!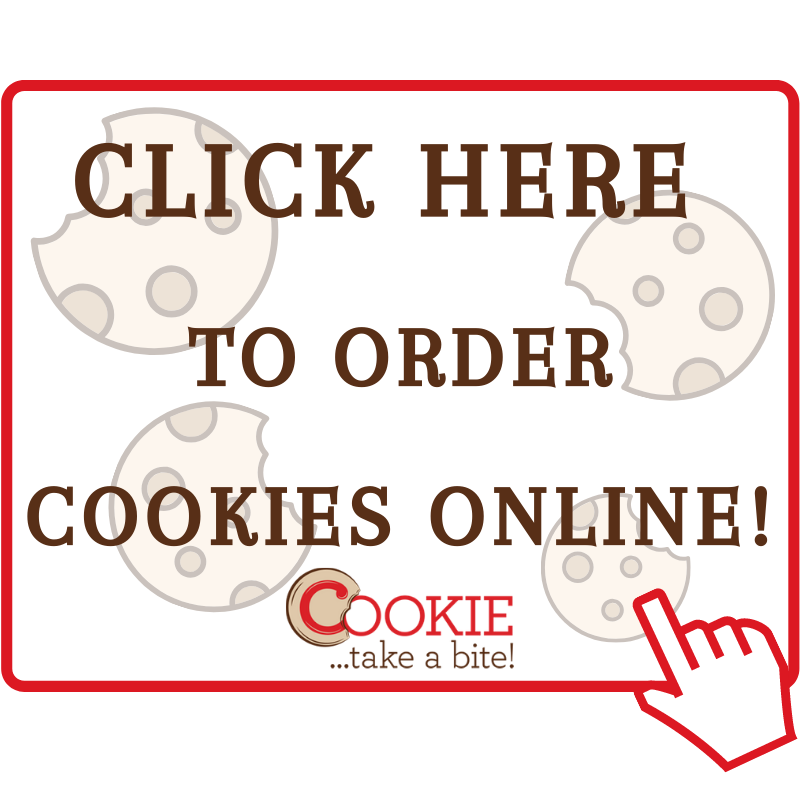 The impact of the coronavirus outbreak has shown many of us our ability to turn unpredictable challenges into meaningful change through compassion and support. We are honored to serve all our customers near and far, and invite you to order one of our gourmet cookie tins for someone you care about today. Help us spread the love…one cookie at a time!