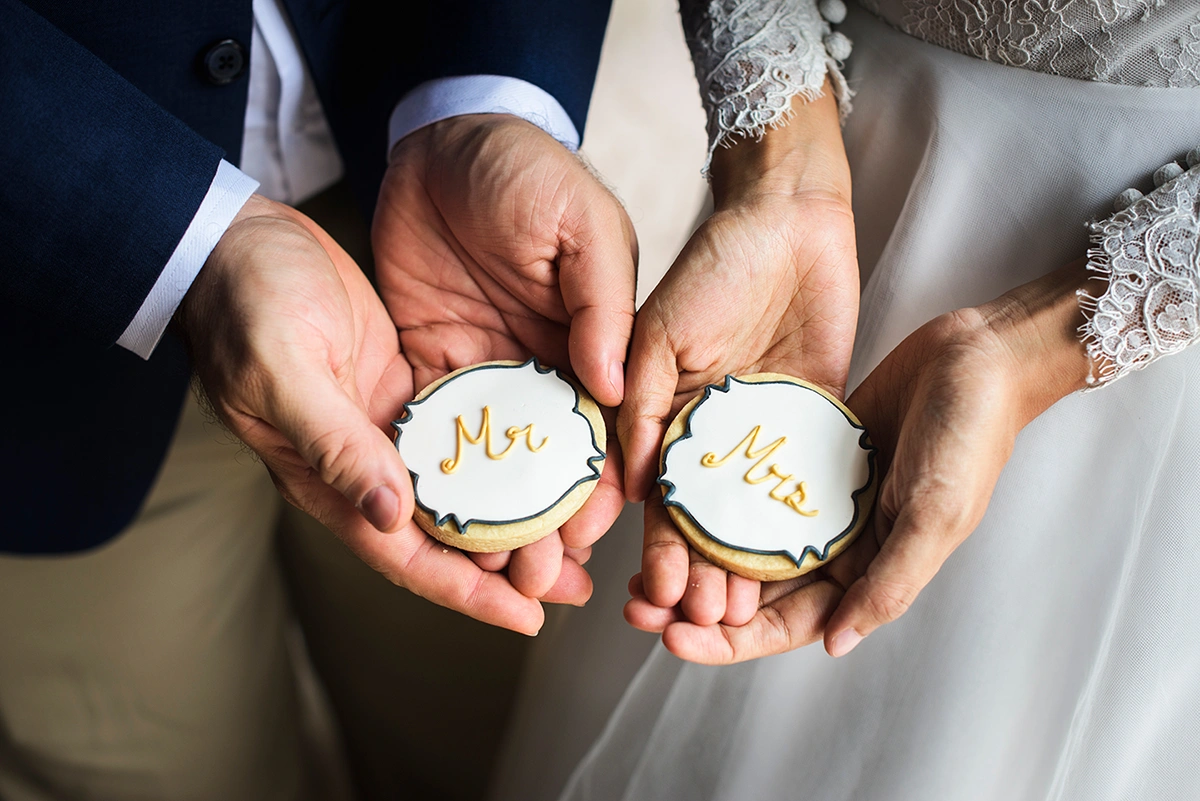 When it comes to your wedding, you want it to be a special day that you and all your loved ones will remember for years to come! What better way to treat yourself and your guests than with custom wedding cookies?  
Unique Ways to Use Custom Cookies to Celebrate Weddings
Personalized cookies are great for weddings because they are delicious, mess-free, and incredibly versatile! There are tons of memorable ways you can incorporate personalized wedding cookies into your festivities! Read on to learn some of our favorite ways to use custom wedding cookies to celebrate your special day.
1. Custom Cookies for Bridal Showers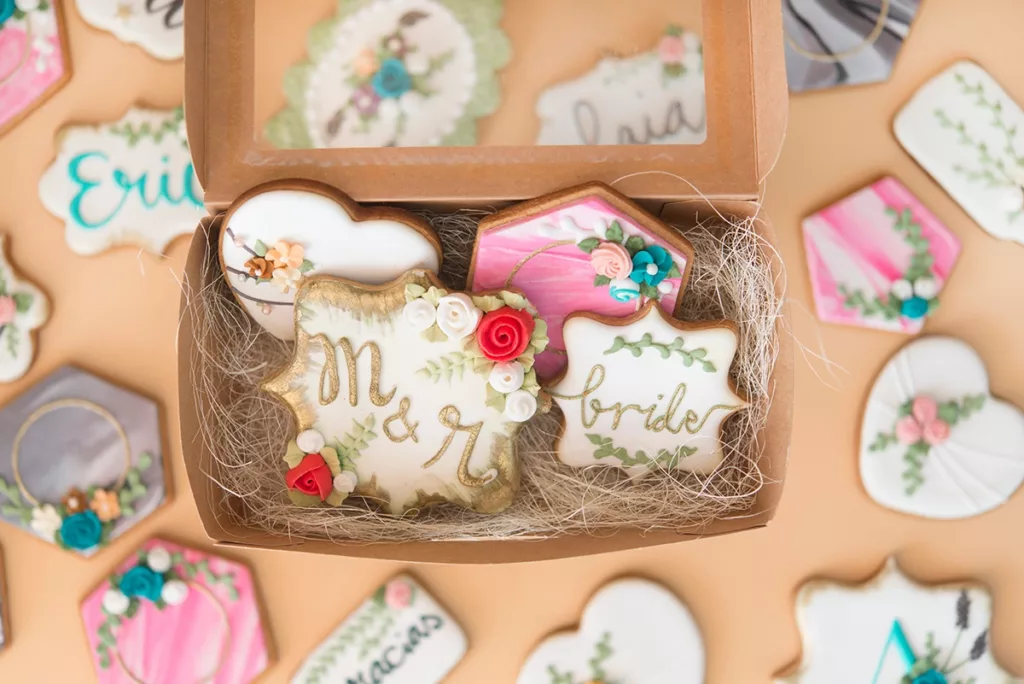 Wedding showers, or bridal showers, are all about celebrating the bride-to-be. With custom bridal shower cookies, you can commemorate this special event with a delicious treat that everyone will love! Custom cookies for wedding showers can include elements like the wedding date, the couple's initials, and more.
They make a beautiful yet effortless addition to any dessert table, and they can be given out as party favors that guests can take home. Custom bridal shower cookies are also a sweet surprise gift idea if you're attending or hosting a shower for a friend or family member! 
2. Custom Cookies for Engagement Parties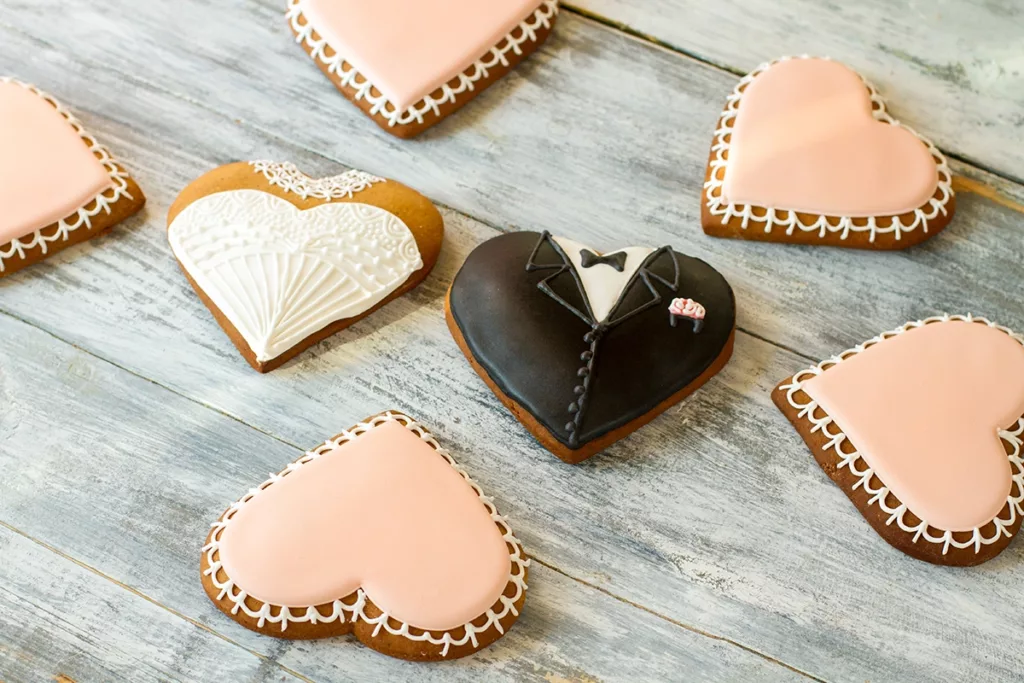 Engagement parties are all about celebrating the love and union of the soon-to-be-newlyweds. If you're planning an engagement party, custom cookies are a festive and tasty way to do just that! With so many themes and designs to choose from, you can get creative when ordering for the upcoming event. Here are some custom engagement cookie design ideas to consider:
Rings to symbolize the recent engagement
Save-the-date cookies
Stylized lettering to represent the couple's initials
Champagne bottles to celebrate the future union 
And more!
3. Custom Cookies for Wedding Favors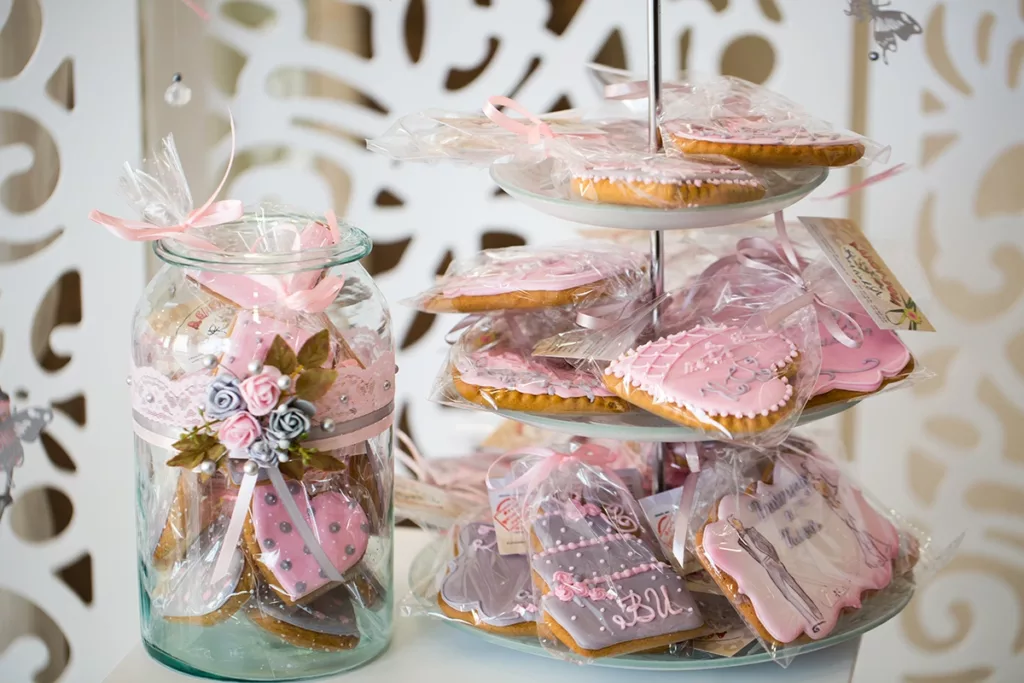 Wedding favors are a memorable way to thank your guests for attending and give them something special to commemorate the event. Instead of cheesy knick-knacks, delicious custom cookies designed specifically for your wedding are something every guest is sure to be excited to take home. When you purchase custom cookies from COOKIE… take a bite!, you can have each cookie individually wrapped in elegant packaging. This makes it incredibly easy to either hand them out or place them around the venue for guests to take home and enjoy! 
4. Custom Cookies for Wedding Cookie Tables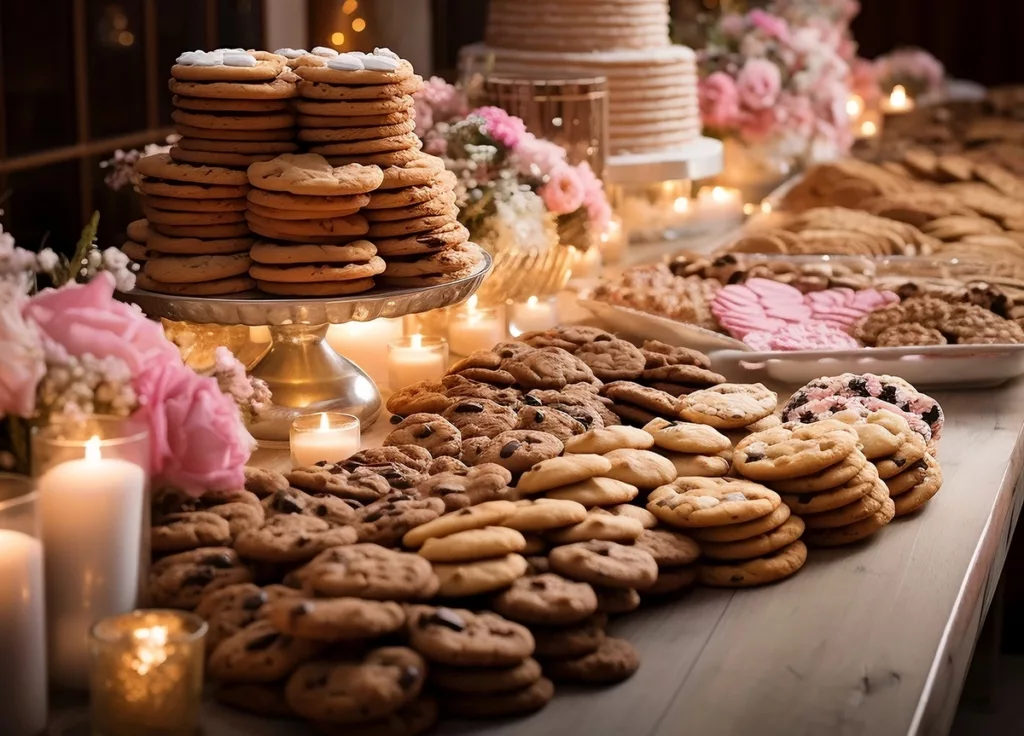 Wedding cookie tables are a great alternative to regular cakes, or as an extra dessert bar that guests are sure to flock to. Adding custom-designed cookies to your dessert table is the perfect way to make your special day even more memorable. With a custom cookie dessert table, you can easily create a creative display and add an extra element of elegance to your wedding, like:
Using plates, vases, bowls, trays, or jars to display your cookies
Mixing and matching gourmet flavors to add variety to your table
Displaying a chalkboard menu for décor and functionality
Adding florals or greenery to your table for a whimsical aesthetic
Placing battery-operated fairy lights on the table for an extra layer of lighting
Including a wedding topper to your tiered cookie displays
Design Your Own Custom Wedding Cookies Today
Custom cookies are the perfect way to make any wedding celebration even more memorable. With so many shapes, flavors, and designs to choose from, the possibilities are endless! At COOKIE… take a bite!, we have been creating custom wedding cookies for Sonoma County couples for years. If you want to use cookies to make your big day sweeter, we also offer local wedding and catering services!
Give us a call at (707) 291-1785 or fill out our custom cookie order form below to start your order today. 
Start Your Custom Wedding Cookie Order
---