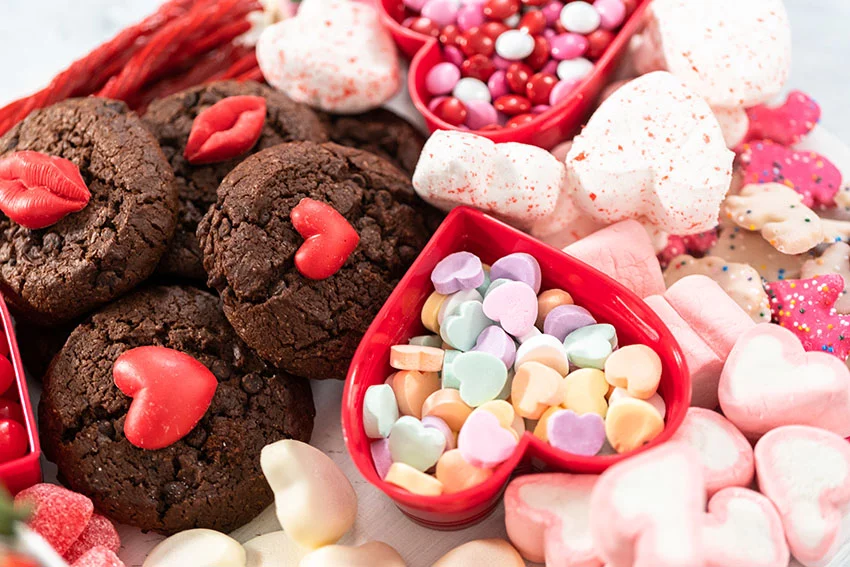 Chocolates and flowers are so yesterday! Gourmet cookies are the yummiest tradition disrupter around. Your loved ones deserve the very best, the yummiest, and the most creative gifts to celebrate their sweetness! This Valentine's Day, share your love with gourmet, handcrafted, organic cookies. It may just become a new Valentine's Day tradition.
5 Reasons Gourmet Cookies Make the Best Valentine's Day Presents
1. Valentine's Day Gift Giving Made Foolproof!
Looking for what you can send someone for Valentine's Day? Send Valentine's Day Cookies! Our all-natural, cookie gifts can be easily shipped anywhere in the nation, arriving freshly baked and festively wrapped for the holiday.
Flowers and chocolate can be tricky. There's no such thing as a wilted cookie, and they won't arrive like a candy bar that's been melted and refrigerated into a misshapen, discolored chocolate glob. With cookies, there are plenty of chocolate varieties to choose from and you can even give your Valentines a cookie bouquet!
2. Special Occasions Call for Special, Gourmet Cookies
No special occasion is complete without cookies. What other sweet will you find at literally every celebration and special event? With handcrafted, gourmet cookies, your celebration gets kicked up a notch. When you have them sent or delivered, your special someone will appreciate the standout gift that is sure to satisfy their Sweetooth.
3. Cookie Flavors to Suit Every Palate
With so many cookie flavors to choose from, you can find something for even the most selective cookie connoisseur. Whether shopping online, or handpicking flavors at the local COOKIE . . . take a bite! cookie counter, you can customize your cookie gifts for each of your loved one's particular preferences. The chocolate lovers in your life will be over the moon for our extensive decadent chocolate options. You can even choose from a selection of vegan and gluten-free cookie options.
4. Organic, Locally-Sourced Ingredients
When it comes to giving edible gifts, it's important to know what they're made from. With COOKIE . . . take a bite! cookies, you know that the ingredients are far fewer than the long list found in some store-bought cookies, and our ingredients are locally sourced and organic as much as possible. Plus, each cookie is handcrafted by a gourmet baker! It's like giving homemade cookies, but better than homemade, that you didn't have to make!
5. Perfect for Groups, Large and Small
COOKIE . . . take a bite! Valentine's Day specialty tins are perfect for every Valentine's Day celebration! Order one for the office, classroom, or that extra special someone in your life. Our Valentine's Day cookie gift tins come in three sizes.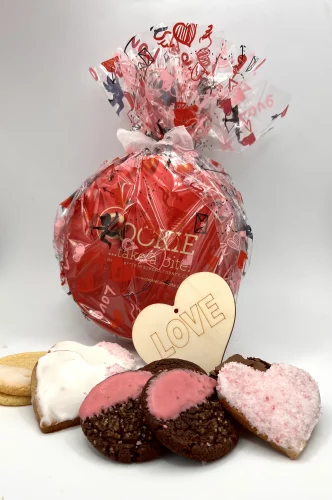 Our Deluxe Valentine's Day Tin has over 16 cookies bursting with lemon, raspberry and chocolate flavors, and our Decorated Hearts.
Our Premium Valentine's Day Tin has more than 25 cookies, with the following flavors: Lemon Moon; Chocolate Raspberry Splash; Rosewater and Thyme Shortbread; Triple Chocolate Threat; and, new this year, our Mini Conversation Mini Hearts, boasting various loving messages printed in edible ink.
Our Platinum Valentine's Day Cookie Tin has it all! All over of our Valentine's Day special cookies, with a total of 42+ cookies.
BONUS Reason for Our COOKIE . . . take a bite! Fans
If you're already a fan of COOKIE . . . take a bite! cookies, this is your chance to share your passion (dare we say addiction?) with your loved ones. All the best things in life are better when shared.
Say "Be My Valentine" to Loved Ones, Near and Far with Valentine's Day Cookies
Say "Be Mine" with artisanal, gourmet cookies this Valentine's Day. You can order our cookies online for local delivery, pick-up, or even nationwide shipping. We also invite you to stop by our Santa Rosa Cookie Counter to buy Valentine's Day cookie tins or build custom cookie gifts for your friends and loved ones, near and far. We will have decorated Valentine's Day cookies on the Counter, too!
While you're shopping, don't forget to pick out a cookie care package for yourself as well!