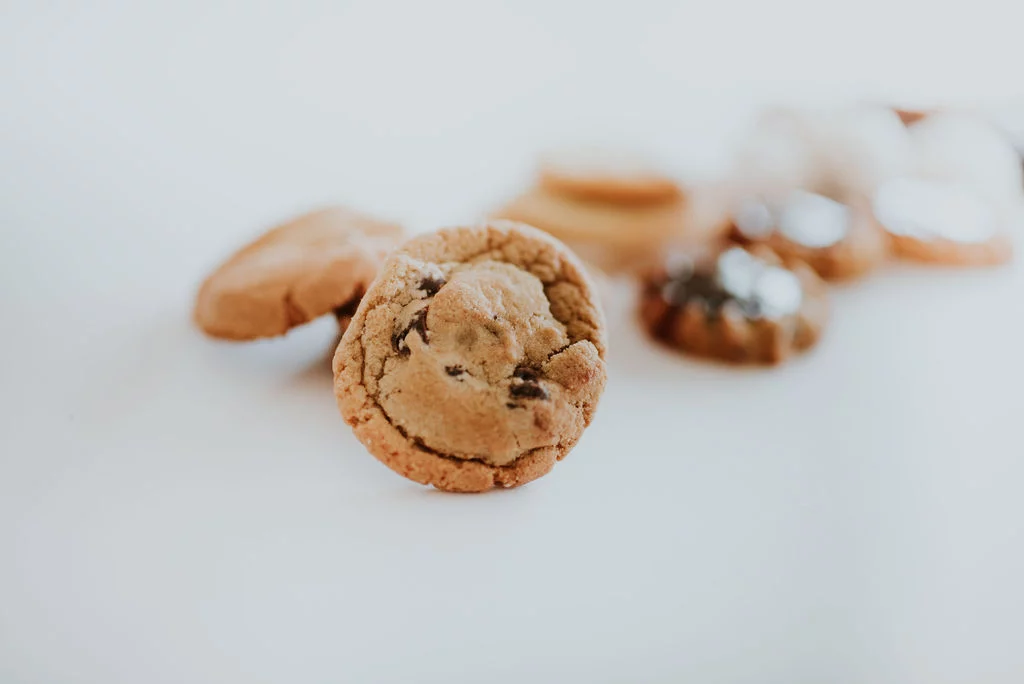 10 Tips for Baking the Perfect Chocolate Chip Cookies
With a crispy edge and perfectly chewy center, our classic chocolate chip cookie at COOKIE… Take a Bite! is an all-time favorite for good reason!
If you have ever wondered, "What is the secret to the best chocolate chip cookie?", this guide is for you! Read on for ten baking tips for making the perfect chocolate chip cookie every time!
1. Use Quality Ingredients
The secret to the perfect chocolate chip cookie recipe starts with the quality of ingredients you use. For richer tasting cookies, use butter that has higher fat content (i.e. less water). Quality chocolate chips or chocolate chunks will help add that gooey, melty goodness everyone loves.
Buying from a local source can help ensure you are using the freshest ingredients available, simply because they didn't need to travel very far from the producer to your kitchen. At COOKIE… Take a Bite! our cookies are handmade with fresh ingredients that are sourced locally in Sonoma County.
Learn more about the local vendors we work with to get the best seasonal ingredients for our gourmet cookie recipes.
2. Use Room Temperature Butter
Allow your butter to sit out so it isn't too cold when you mix it into your dough. This makes it easier to incorporate and adds a little air to the batter for better texture in every bite.
3. Slowly Add Your Eggs
Adding your eggs too quickly won't allow them to incorporate into the dough evenly and will result in more dense cookies. Whisking your eggs ahead of time and slowly adding them into your cookie batter will make it easier to evenly disperse the liquid fat.
4. Use Real Vanilla Extract
Using pure vanilla extract in your chocolate chip cookies will give them a fully-infused, rich flavor. The flavor from cheaper versions will permeate your cookies with an artificial or weird chemically aftertaste. If you don't have real vanilla extract, it is better to leave it out altogether instead of settling for the imitation stuff.
5. Sift Dry Ingredients
Flour's gluten strands get tough the more you mix them, so you want to reduce the amount of time it takes you to incorporate it into your cookie batter. Sifting all your dry ingredients beforehand makes them easier to mix with your wet ingredients so you don't overmix.
6. Use an Ice Cream Scoop
The simplest way to bake perfectly round and uniform chocolate chip cookies is to scoop your batter with an ice cream scoop!
Take an inside look at the essential cookie baking tools we use every day to make all our fresh organic cookies in our previous blog post.
7. Let Your Dough Rest
The perfect chocolate chip cookie is never rushed! Let your cookie dough rest before baking by placing it in the refrigerator for an hour. You can also store your dough overnight, but make sure to wrap in cellophane so it doesn't get crusty.
Your cookie dough can even be frozen and popped in the oven to bake straight from the freezer. This is a great method for making larger batches of dough to have on hand, so you can bake chocolate chip cookies whenever you want!
8. Top With a Pinch of Salt
Add a little pinch of salt on top of your chocolate chip cookie before putting them in the oven to bake. This baking tip helps bring out all the flavors in your cookie.
9. Experiment
Get creative and have some fun in the kitchen! Try baking your cookies at different temperatures, using different recipes, and finding your own special ingredient for your very own perfect chocolate chip cookie. Just try not to eat all the dough before you start baking!
10. Share Them!
Baking is about the joy of creating something with your own hands and sharing it with those you love! Besides, what's the point of finding the secret to the perfect chocolate chip cookie if you can't show it off?
Get More Cookie Baking Tips from COOKIE… Take a Bite!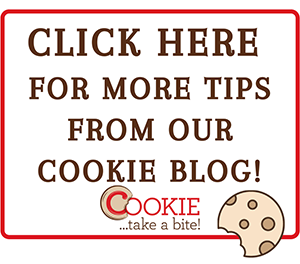 If you have a cookie baking question, we wanna hear it! Like Cookie… Take a Bite! on Facebook for more cookie baking tips and tricks and send us your cookie questions! Check out our Cookie Blog for more helpful baking info and to stay up-to-date on all our new seasonal cookie flavors and Holiday Gift Tins available now!

All our gourmet cookies gifts are handmade with local Sonoma County ingredients and available to order online for pick-up at our Santa Rosa Cookie Counter, local delivery, or shipping nationwide!