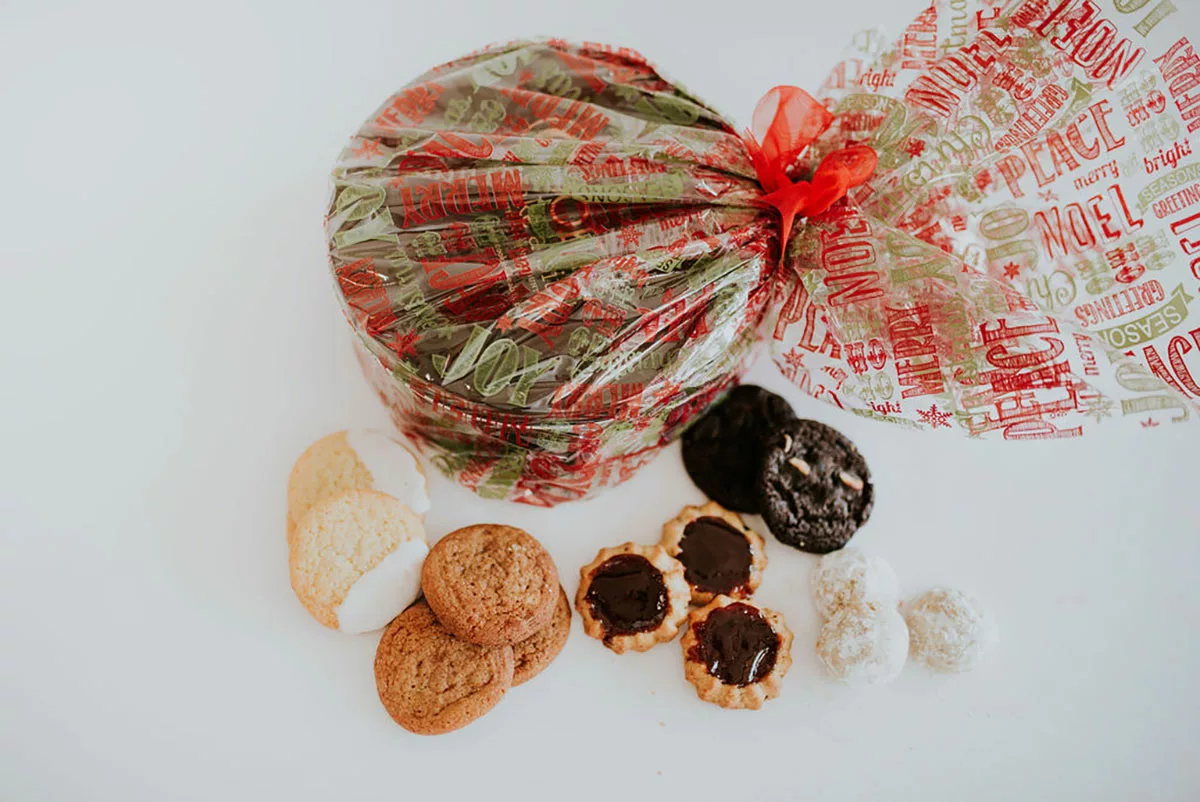 4 Easy Ways to Give the Best Gourmet, Organic Cookies for the Holidays
Giving the gift of the best local, gourmet cookies for the holidays, with easy delivery options from COOKIE…take a bite!, makes this busy season more manageable. Amidst the company and club parties, craft fairs, recitals, holiday shows, dinners, and entertaining, who has time for shopping?
Let's explore four ways you can have hand-crafted holiday cookies delivered to all of the cookie lovers on your list, fresh from our Sonoma County bakery!
Send Holiday Cookie Gift Tins Loaded with New and Familiar Flavors
Our popular holiday cookie tins come bursting with fabulous flavors, and more cookies than the standard tin sizes. Every cookie is handcrafted in Sonoma County with the best ingredients, many of them local and organic.
Deluxe Variety Holiday Cookie Gift Tin
The Deluxe Variety Holiday Cookie Gift Tin features some of our most popular flavors, with 18+ cookies in a reusable tin, wrapped in festive holiday wrap. This tin is the best gift for chocolate lovers, with our Triple Chocolate Threat and Classic Chocolate Chip.
These rich, warm flavors are complimented by the delicious tang of citrus in our Lemon Moon and our Orange and Vanilla Holiday Swirl. And no holiday tin is complete without our spicy, sweet gingerbread folks.
Premium Variety Holiday Cookie Gift Tin
Our Peppermint Chocolate Frost and Sonoma Trekker add to the festive flavors in this 30+ cookie Premium Variety Holiday Cookie Gift Tin. Nothing says holidays like peppermint and chocolate, and the oatmeal and cranberries of the Sonoma Trekker are great with a warm cuppa on a cold day or a pick-me-up at the trail's end.
This tin also includes our award-winning Lemon Moon; Classic Chocolate Chip; Orange and Vanilla Holiday Swirl; and Gingerbread Folks.
Platinum Variety Holiday Cookie Gift Tin
For the most cookies in a holiday tin, choose our Platinum Variety Holiday Cookie Gift Tin to give your friends, family, or business associates 42+ cookies made with organic butter, local ingredients, and love.
In addition to the award-winning Lemon Moon, the creamsicle-like Orange and Vanilla Holiday Swirl, our seasonal favorite Peppermint Chocolate Frost, and our Classic Chocolate Chip, you'll find our staff favorites: Jam Thumbprints and Ginger Honey Snaps. And, of course, Gingerbread Folks.
Give the Perfect Gift for Yummy Family Fun with Our Gingerbread Decorating Kits
What's better, on a wintry day, than decorating gingerbread folks with the little ones in your life? Now available at COOKIE…take a bite! is our Gingerbread Decorating Kit, complete with four "naked" gingerbread folks, royal icing, and three kinds of decorating bling to let little humans with big imaginations get creative.
These fun kits are available for purchase at our cookie counter in Santa Rosa, for local delivery, and for shipping domestically, throughout the holiday season.
Appreciate Business Associates with Irresistible Cookies
Cookies from COOKIE…take a bite! make showing your appreciation to the people you do business with so easy. They're one size fits all, gender neutral, all ages, and always a big hit!
Give Cookie Boxes and Tins to Clients, Prospects, and Remote Employees
Give your clients, prospects, and remote employees the gift of cookies this holiday season, and they'll remember your company fondly as they enjoy fresh, hand-crafted flavors throughout the holiday season.
Your employees keep your business running and you want to reward them for all they do throughout the year. A holiday COOKIE…take a bite! Cookie Box is just the thing to say thank you and brighten their holiday season. You can pick up 14 cookie boxes with up to three flavors, or a catering box of 36. Plus, during the holidays, you can have either delivered within most of Santa Rosa.
Give the Gift that Keeps on Giving with a Cookie Subscription
Another great way to keep the cookie lovers in your life happy, whether friends and loved ones or corporate partners and clients, is a Cookie-of-the-Month Subscription. Each month, Cookie of the Month club members receive two dozen freshly baked cookies delivered in an elegant, eye-catching tin. Flavors rotate based on seasonal availability of fresh, local ingredients.
Shop for all the cookie lovers in your life with nationwide shipping and local delivery on all Holiday Cookie Gifts
Cookies are always a welcome treat. Especially around the holidays. At COOKIE…take a bite!, we want to make your gift-giving as easy as possible. We have added a Flat Rate Fed Ex Rate to ensure your cookies get to your loved ones in time for the holidays! If you're in Santa Rosa, California, local delivery for most of the city is available, and still just $5. Add a thoughtful Christmas, Hannukah, Kwanzaa, or any other message to your cookie order to delight your cookie lovers with a personalized gift. 
Skip the busy shopping malls by ordering wholesome, organic, gourmet holiday cookies for everyone on your gift list, delivered right to their door! Order your festive cookie gifts online today!