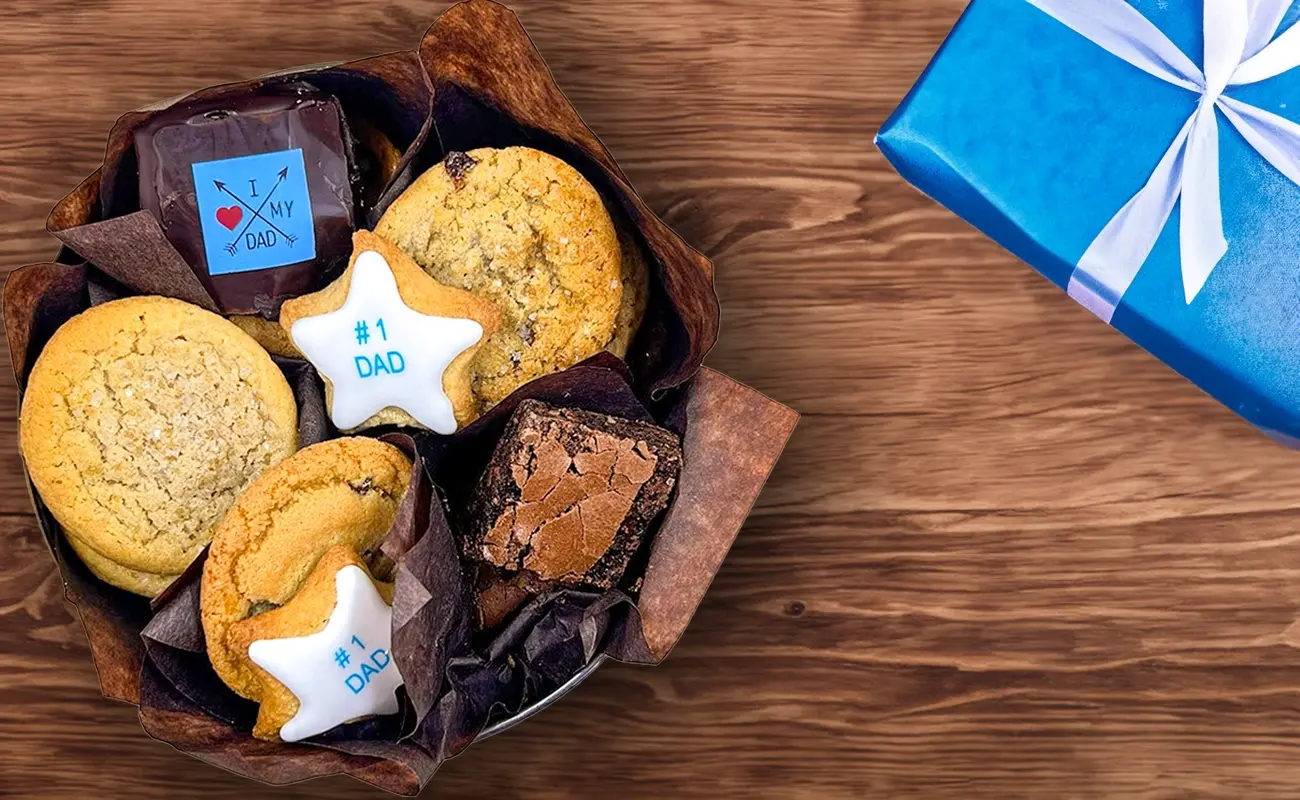 If you're wondering what to get the graduates in your life or what to get your dad for Father's Day, the sweet answer is the same: Gourmet cookie gifts! You just can't go wrong with cookies. There are so many possibilities, too. You can surprise them with their favorite cookie flavors and blow them away with the handcrafted, gourmet goodness made possible by fresh, local, organic ingredients. Read on as we highlight six cookie gifts to celebrate dads and grads on their special day.
Celebrate Your Graduate with Gourmet Cookie Gifts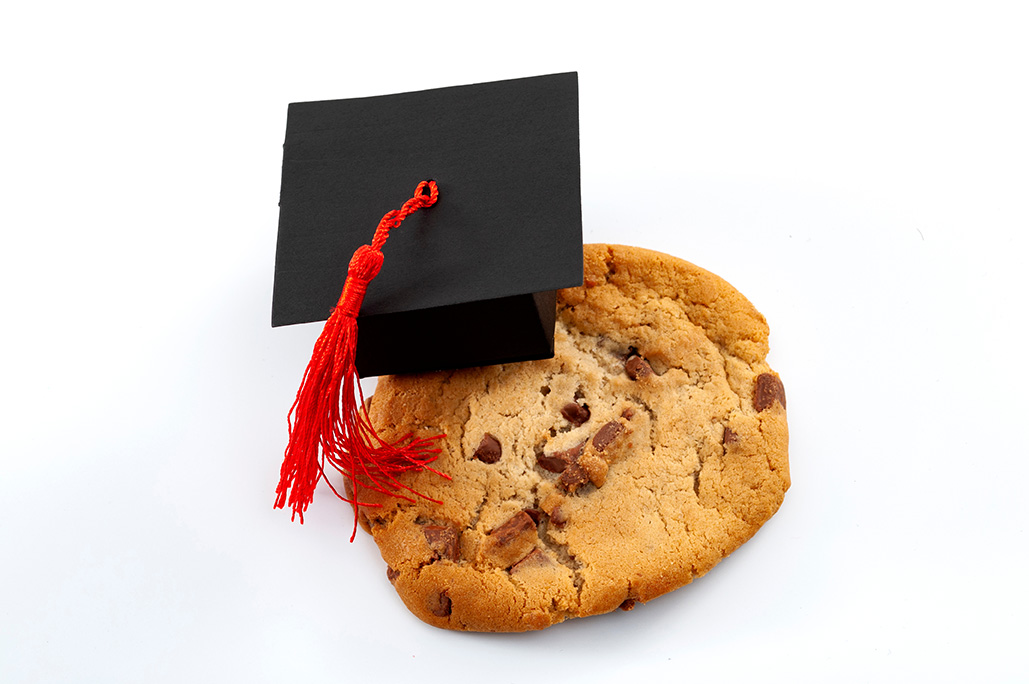 Graduating, whether from high school, college, or earning a postgraduate degree is a big deal. Only the best, yummiest cookies will do! For graduates, we've created specially decorated Graduate 2023 cookies that we feature in our graduation cookie tins.
Deluxe Graduation Cookie Gift Tins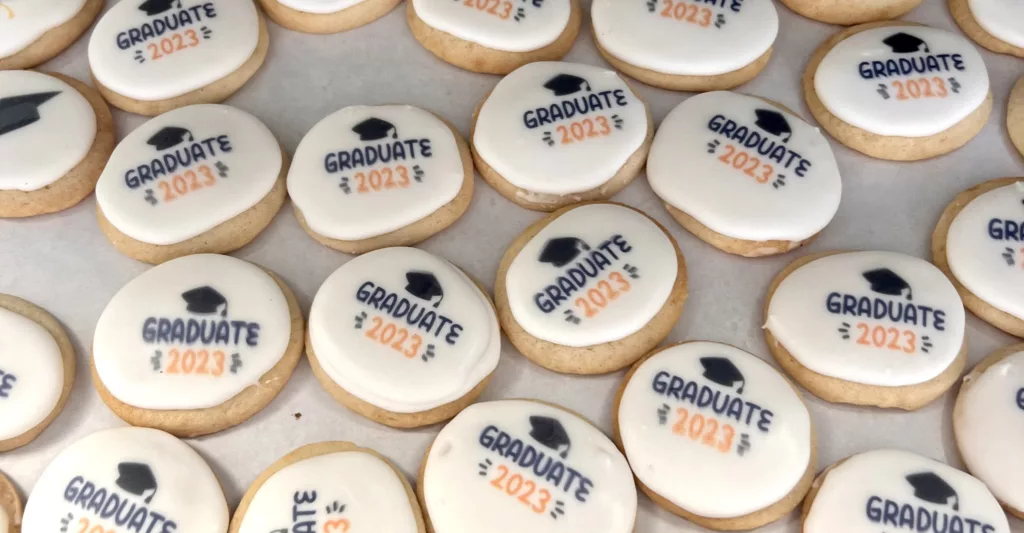 Wow your graduate with our Deluxe Graduation Cookie Tin filled with cookies that taste as good as they look. Our melt-in-your-mouth, special graduate sugar cookies are made with organic butter from Strauss Family Creamery and organic flour milled locally. Your grad will also enjoy the other popular flavors packed into these graduation cookie gift tins. These additional flavors include: our award-winning Lemon Moon cookies, our gourmet Classic Chocolate Chip, our famous Snickerdoodle Sugar Sparklers, and our special Triple Chocolate Threat.
Premium Graduation Cookie Gift Tins
For the chocolate or brownie lover graduate, the Premium Graduation Cookie Tin is a must! It has all the handcrafted, gourmet, organic goodness of the Deluxe Graduation Cookie Tin plus double chocolate brownies. This tin has 28 cookies in all!
Cookie Platters for Grad Parties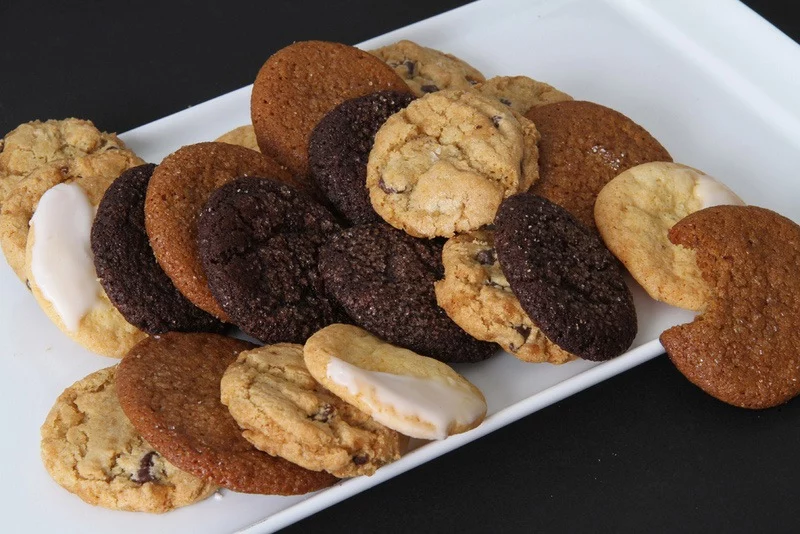 No party honoring teenagers can be without cookies. Cookie platters make any graduation party spread that much better. At COOKIE . . . take a bite! we have cookie platters with up to seven flavors each, so everyone will find their favorite cookies.
Show Dad You Care with Gourmet Cookies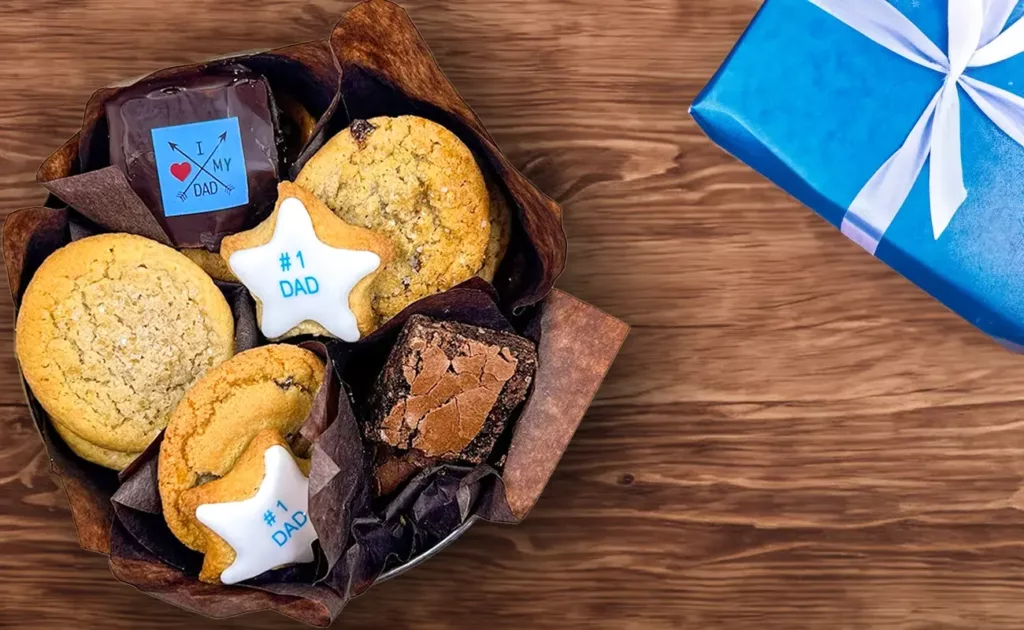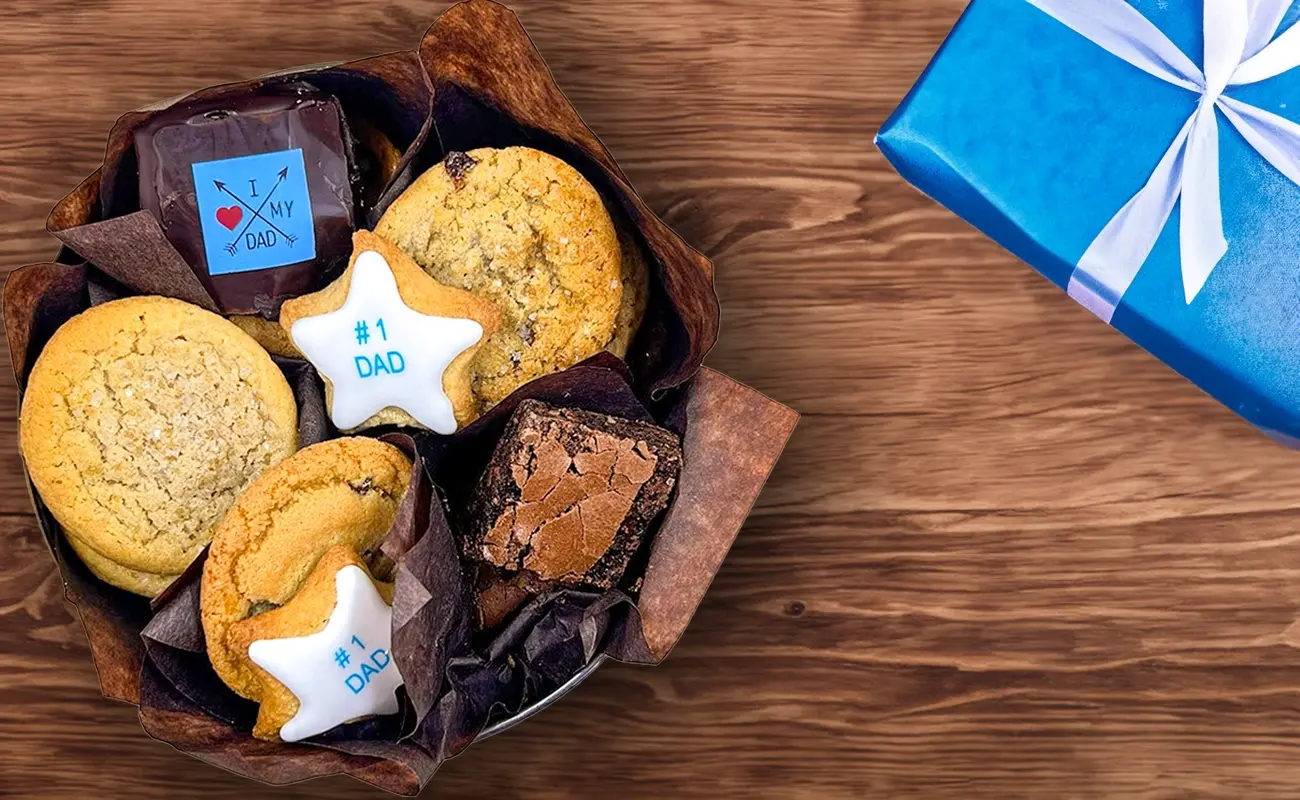 If you're looking for sweets for your sweet dad, and a Father's Day gift that can't go wrong, we have some great solutions! Here are just a few ways to give handcrafted cookie gifts to your dad or someone who has fulfilled that role in your life.
Father's Day Cookie Tin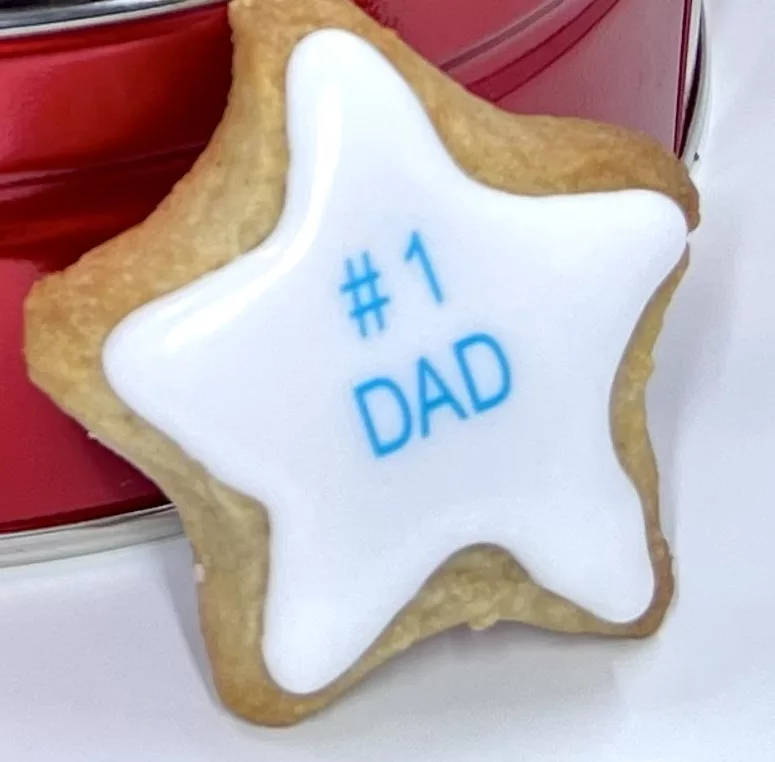 Dad will love all of the classic flavors included in our 18-cookie Father's Day Variety Tin. Flavors in our yummy Father's Day cookie gift tins include: Classic Chocolate Chip, Oatmeal Raisin, Double Chocolate Brownies, Snickerdoodle Sugar, and decorated Dad cookies!
Build Your Own Cookie Tin
Few people know your Dad like you do. If you want to build a tin with all his favorite cookie flavors, you can customize a Build Your Own Cookie Tin. Choosing from more than 20 flavors, you can give him a tin with five each of the flavors you know he loves.
Cookie of the Month Subscription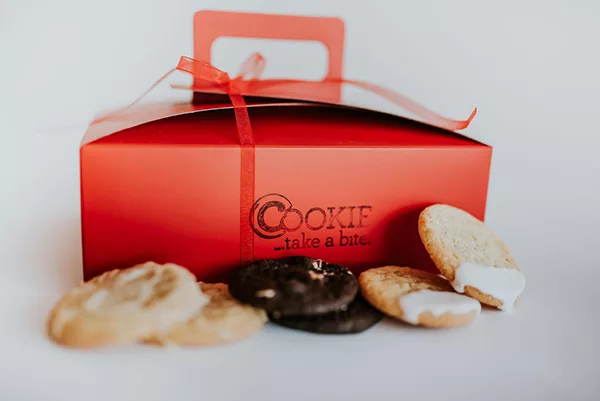 For a gift that keeps on giving, consider a cookie subscription for Dad. With a Cookie of the Month Subscription, Dad can look forward to different flavors delivered to his door every month. What could be better than keeping him stocked up with cookies year-round?
COOKIE . . . take a bite! Cookies Travel Well!
We have many convenient cookie gift delivery and shipping options to choose from, including shipping nationwide and local delivery. All of our tins are carefully packed when they're at their freshest and will arrive whole and wholesome.
Buy Cookies Locally to Celebrate Dads and Grads
Whether it's cookies for Father's Day or cookie gifts for the graduates in your life, when you buy cookies locally, it makes gift giving feel better for you and for your dad or grad. At COOKIE . . . take a bite, we value our contribution to the local economy and the local food chain. Sourcing ingredients locally is the best way to ensure fresh, quality gourmet cookies for our customers. Whether you're sending cookies, picking them up, or opting for local delivery, you can order your cookies online or stop by our Santa Rosa Cookie Counter to browse, try some flavors, and settle on who gets what. And don't forget yourself!